Given its strength (almost the same as the 1985 Mexico City earthquake), this latest earthquake could have been so much worse… but it appears that central Mexico escaped with only relatively minor damage.
The earthquake happened 12:02 p.m. local time at a depth of about 10 km (6 miles), some 200 km (120 mi) east of the resort city and was felt as far away as Mexico City. The epicenter was close to the settlement of Ometepec, roughly midway between Acapulco and Oaxaca City.
The USGS originally recorded the earthquake as a 7.6, but has since downgraded the magnitude to 7.4.
Mexican sources say the earthquake lasted 2-3 minutes. Several significant aftershocks have been recorded since. The shaking was felt in Guerrero, Morelos, Puebla, Tlaxcala, Estado de Mexico, the Federal District and as far as Veracruz.
Main impacts reported so far:
The USGS collects first-hand reports to map intensity:
This is the the intensity map several hours after the event: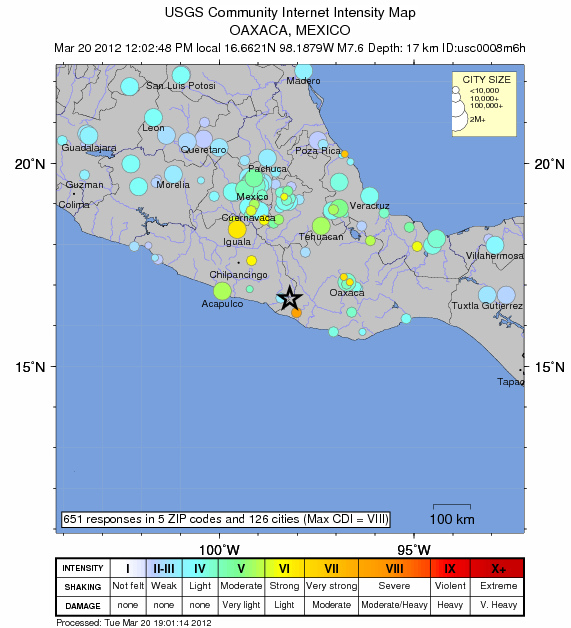 Earthquake update [28 March 2012]
According to the latest press reports, more than 32,000 homes and 1,057 schools in the states of Oaxaca and Guerrero sustained some damage as a result of the 20 March 2012 earthquake. This figure includes 30 schools in the Costa Chica region of Guerrero that will need to be completely demolished and rebuilt from scratch.
As of 26 March the area had experienced more than 200 aftershocks of Richter scale 3 or greater.
The insurance industry expects claims from the earthqauke to reach about 5.6 billion pesos [about US $ 440 million], with most claims expected from policy holders living in the Guerrero, Oaxaca, the Federal District, Puebla and Morelos.
Damage in Mexico City included a section of line A of the city's metro network (see image), where 100 meters of track between Santa Martha and Acatitla stations were buckled and have now been replaced.
Related posts: