On February 20, 1943, Paricutín Volcano erupted in a farmer's cornfield in Michoacán. Simón Lázaro Jiménez, now a carpenter by trade, was just a young boy. Here, for the first time, an indigenous P'urepecha Indian relives, in vivid and entertaining prose, his first-hand experiences on that fateful day and during the months that followed.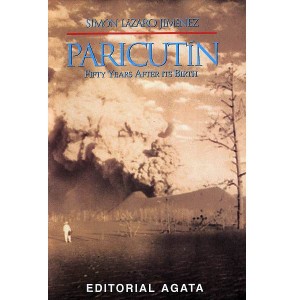 This 51-page softcover booklet includes simple maps and 16 previously unpublished photos, including several by acclaimed German photographer Walter Reuter.
Geo-Mexico is reader-supported. Purchases made via links on our site may, at no cost to you, earn us an affiliate commission.
Learn more.
Paricutín, 50 years after its birth was written by Simón Lázaro Jiménez, and translated by Tony Burton. The booklet was published by Editorial Agata in 1994.
"Early that morning when we reached the town all the houses were completely deserted, with their doors open but nobody inside. We went round the town three times and found five men reciting the Holy Rosary…" (p 14)
"The first flows of lava oozed out of the volcano's mouth and formed a hard initial slope but this didn't work as Nature intended. It only resulted in reinforcing the side, enabling the volcano to increase its height, which is just what happened." (p 23)
"The greatest number of tourists always arrived at night because this was the best time to appreciate, in all its splendor, in all its magnitude, this marvel of Nature, and the volcano, as if showing off its immense pride, threw its fiery stones as high as possible. These same stones would then totally cover everything…" (p 27)
The author tells a compelling tale, and one which might never have seen the light of day had it not been for the generosity of Editorial Agata in arranging its translation and publication.