In a departure from our usual style, this post considers some of the more striking gifts available on the web that would surely please any Geo-Mexico fanatic. (Sadly, we do not receive any commission or recompense for making these recommendations, though we are always open to offers!)
First up is this framed, 5″ x 7″ stainless steel laser-cut map street map of Guadalajara:
Next is this stunning Mexico City Map, by modern artist Jazzberry Blue, reproduced as a Giclée Fine Art Print:
This map is available in four sizes, 13″x13″ (includes a 1″white  border); 17″x17″ (includes a 2″ border); 22″x22″ (includes a 2″ border); and 28″x28″ (includes a 2″ border). There is a similar, though less colorful, map of Guadalajara.
Alternatively, how about this Mexico typography map?
This more conventional Landform Map of Mexico, drawn by Erwin Raisz, is an absolute classic. Erwin J. Raisz (1893-1968) was an internationally renowned cartographer. The map is a hand drawn, pen and ink map, based on field observations and aerial photography.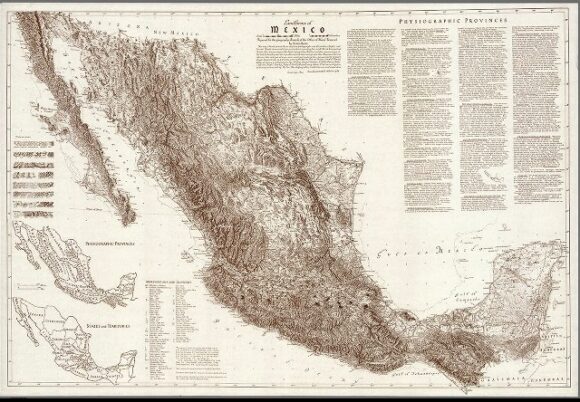 This incredibly detailed map is a bargain at $12 plus shipping, but is 28″ by 41″ in size and will cost you several times that to frame.
The online gifts site Etsy has many other arts and crafts maps related to Mexico. Which is your favorite?