The Montebello Lakes National Park (Parque Nacional Lagunas de Montebello) in Chiapas is a 6040-hectare expanse of rainforest, at elevations ranging from 1500 to 1800 metres (5000-6000 ft) above sea level, near the border with Guatemala. The park has 59 small and mid-sized lakes of varying colors. The variations in color include several tones of blue and green, due to differences in mineral content. About a quarter of the lakes are readily accessible by vehicle or on foot, and they are spectacular on a sunny day.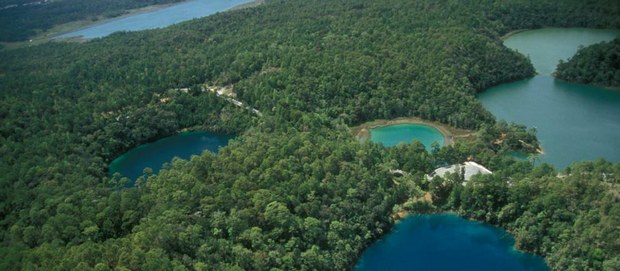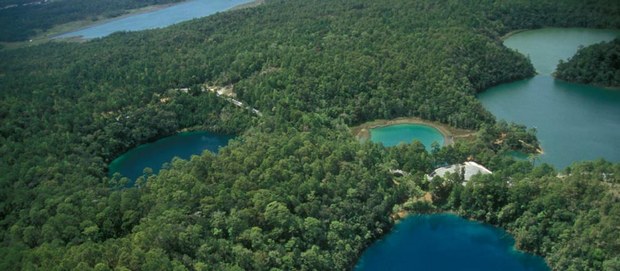 The park, which is an international RAMSAR wetland site, was the earliest national park to be established in Chiapas, and dates back to 1959. It was formally designated a UNESCO biosphere reserve in 2009.
This short (2 min, 20 sec) postandfly video gives a great overview of the park's beauty:

Several of the lakes are used for swimming, canoeing, and kayaking. The largest is Lake Tziscao.
Additional attractions within the park include sinkholes (cenotes), caves (Grutas San Rafael del Arco) and two Maya ruins, the most important of which is Chinkultic, whose ruins date back to the third century. That site's main pyramid, the Acropolis, affords an excellent view over the region.
The nearest city to the Montebello park is Comitán, an hour's drive to the west. The picturesque city of San Cristóbal de las Casas, a very popular tourist city, is about three hour's drive from the park in the same direction.
The protection of the lakes does face some issues. They are so close to the Guatemalan border that the area has been a regular staging post for central Americans entering Mexico illegally, hoping to eventually reach the USA.
In recent years, scientists have expressed concern that the lakes are losing their colors and becoming muddy and lifeless. They attribute this to untreated wastewater and agricultural runoff entering the lakes (via the Grande River which flows directly into the lakes) and deforestation of parts of the lake basins.
The Chiapas state Congress called for action in 2015, and has renewed its efforts this year. Proponents of action want a special commission to be set up to coordinate protection and recuperation efforts. Among those working to preserve this amazing treasure in southern Mexico are researchers from several major Mexican universities, including the National University (UNAM) and the Autonomous University of Chiapas.
Related posts: