Twelve states held elections for state governor Sunday 4 July 2010.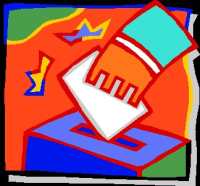 The preliminary results show that PRI (in association with various smaller parties) won 9 state governorships, and that PAN-PRD alliance won three.
Mexico's political parties in order of year of foundation:
PRI Partido Revolucionario Insititucional (Institutional Revolutionary Party), founded 1929
PAN Partido Acción Nacional (National Action Party), founded 1939
PRD Partido de la Revolución Democrática (Party of the Democratic Revolution), founded, 1988
PT Partido de Trabajo (Labor Party), founded 1990
PVEM Partido Verde Ecologísta de México (Mexico's Green Party), founded 1991
Convergencia por la Democracia (Convergence for Democracy), founded 1999
PRV Partido Revolucionario Veracruzano (Veracruz Revolutionary Party), founded 2004
Partido Nueva Allianza (New Alliance Party), founded 2005 by the National Union of Educational Workers
Results state-by-state, with name of governor-elect and parties represented

Aguascalientes:  Carlos Lozano de la Torre, PRI-PVEM-Nueva Alianza coalition.
Puebla: Rafael Moreno Valle,  PAN-PRD-Nueva Alianza-Convergencia coalition
Quintana Roo: Roberto Borge Angulo, PRI-PVEM-Nueva Alianza coalition
Durango: Jorge Herrera Caldera, PRI
Tamaulipas: Egidio Torre Cantú, PRI-PVEM-Nueva Alianza coalition (Torre Cantú is the brother of Rodolfo Torre Cantú, the PRI party candidate for governor who was assassinated a week before the election)
Veracruz:  Javier Duarte de Ochoa, PRI-PVEM-PRV coalition
Sinaloa, Mario López Valdez, PAN-PRD-PT-Convergencia
Tlaxcala: Mariano González Zarur PRI- PVEM
Oaxaca: Gabino Cué, PAN-PRD-PT-Convergencia.
Zacatecas: Alonso Reyes, PRI-PVEM.
Chihuahua: César Duarte, PRI
Hidalgo: Francisco Olvera, PRI-PVEM-Nueva Alianza coalition
Chapter 12 of Geo-Mexico: the geography and dynamics of modern Mexico takes a close look at Mexico's political patterns. Buy your copy today, so you have a handy guide to the "back story" behind Mexico's current affairs.