According to the book One Hundred and One Beautiful Small Towns in Mexico, by Guillermo García Oropeza and Cristóbal García Sánchez (Rizzoli International Publications, 2008; 280 pp), these places all merit inclusion in the list of the 101 Beautiful Small Towns in Mexico.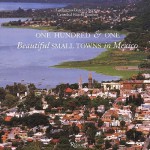 We will review the book more formally in a future post, since it offers some insights into Mexico's geography, but for now take a look at the list below, and see if you agree.
Our own list of the most beautiful small towns would certainly include most of these, though we can think of some equally excellent choices which are not included.
Are there other towns that would be on your list? If so, let's hear about them!
BAJA CALIFORNIA
San Felipe
Valle de Guadalupe
BAJA CALIFORNIA SUR
Loreto
Mulegé
San Ignacio
San Jóse del Cabo
Santa Rosalía
Todos Santos
CAMPECHE
CHIAPAS
Comitlán de Domínguez
Chiapa de Corzo
Palenque
San Cristóbal de las Casas
Yaxchilán
Bonampak
Zinacantán
San Juan Chamula
CHIHUAHUA
Batopilas
Creel
Hidalgo del Parral
Nuevas Casas [Nuevo Casaas Grandes]
Mata Ortíz
Cuarenta Casas
COAHUILA
COLIMA
FEDERAL DISTRICT
GUANAJUATO
Atotonilco
Dolores Hidalgo
Guanajuato
San Miguel De Allende
Yuriria
GUERRERO
HIDALGO
El Chico
Huasca
Mineral del Monte [Real del Monte]
Tula
JALISCO
Chapala
Ajijic
Lagos de Moreno
Mazamitla
Puerto Vallaría
San Sebastián del Oeste
Tapalpa
Tequila
Tlaquepaque
MEXICO STATE
Malinalco
Teotihuacán
Acolman
Tepotzotlán
Valle De Bravo
MICHOACÁN
Angangueo
Cuitzeo
Paricutín
Angahuan
Santiago Nurío
Paracho
Pátzcuaro
Santa Clara del Cobre
Zirahuén
Tlalpujahua
Tzintzuntzan
MORELOS
Cuernavaca
Tepoztlán
Tétela del Volcán
Xochicalco
Yecapixtia
NAYARIT
NUEVO LEÓN
Bustamante
Villa de García
OAXACA
Cuilapan
Arrasóla
Ixtlán De Juárez
Mitla
Monte Albán
Ocotlán
San Bartólo Coyotepec
Santa María del Tule
Tlacochahauya
Tlacolula
Dianzú
Yanhuitlán
PUEBLA
Cuetzalan
Cholula
Huejotzingo
Tonantzintia
San Francisco Acatepec
QUERÉTARO
QUINTANA ROO
Bacalar
Cozumel
Holbox
Isla Mujeres
Playa del Carmen
Tulum
SAN LUIS POTOSÍ
SINALOA
SONORA
TLAXCALA
YUCATAN
Chichen Itza
Izamal
Uxmal
Valladolid
VERACRUZ
Coatepec
Los Tuxtlas
Papantia
Tlacotalpan
ZACATECAS
Guadalupe
Jerez
Sombrerete
Mexico's cities and towns are analyzed in chapters 21, 22 and 23 of Geo-Mexico: the geography and dynamics of modern Mexico. Buy your copy today!!