David Lida is a well-known and highly respected author who has lived in Mexico City (on and off) for over twenty years. His books include First Stop in the New World: Mexico City, Capital of the 21st Century and the short-story collection Travel Advisory: Stories of Mexico. He also blogs about Mexico City: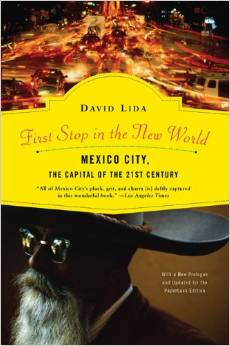 His article a few months back in the Guardian about life in Mexico City – An urbanist's guide to Mexico City: 'Transport is an adventure and often a nightmare" – is an informative account of his love-hate relationship with the city. The following short extracts from his article, relating to the geography of the city, should sharpen your appetite to read more:
"The greater metropolitan area of Mexico City is home to about 22 million people (known as chilangos) and is laid out over about 600 square miles…. The most recent study, from 2007, says that it takes chilangos an average of an hour and 17 minutes to get from one place to another."

"Half of the working population toils in the informal economy – parking cars, cleaning houses, packing groceries, selling things on the street. The middle class is squeezed month by month rather than daily, while perhaps 10% has a jolly time with plenty of discretionary income. According to Forbes, Mexico's elite upper class is made up of 1.7% of the population."

"Although it is not comprehensive, and the stations are spaced further apart than they are in some other places, if your destination is on the route the metro is the fastest, cheapest and best way to get around Mexico City…. Taxis are abundant and cheap, and depending on your route, can also be quick. As in any big city, you want to avoid getting stuck in rush-hour traffic whenever possible."

"Bicycling has definitely become more popular in the city, but because of the way people drive cars, I think it is a terrifying prospect."

"What I believe we are seeing here is a worldwide phenomenon in which the well-to-do are getting sick and tired of long commutes from gated communities on the outskirts and want to move closer to the centre. Many of the poor will probably end up being shunted further and further away from where they have to work."

"In greater Mexico City there are about 85,000 streets and 5,000 neighbourhoods. Of those streets, about 850 are called Juárez, 750 are named Hidalgo, and 700 are known as Morelos. Two hundred are called 16 de Septiembre, while 100 more are called 16 de Septiembre Avenue, Alley, Mews or Extension…. Like London's A to Z or Michelin's Paris Plan, there is a street map in book form here called the Guía Roji, which weighs in at over 150 two-sided pages of maps. If you only own one book while you live here, better make it the Guía Roji."
Extracts come from David Lida's – An urbanist's guide to Mexico City: 'Transport is an adventure and often a nightmare". Enjoy!
Related posts: