Denomination of origin status (aka designation of origin, appellation of origin) has been awarded over the years to numerous Mexican products (see image). The status provides some legal protection to the use of the name and sets geographic limits on the areas where the items can be produced. The general declarations of denominations of origin are issued by the Mexican Institute of Industrial Property and published in the official federal broadsheet Diario Oficial de la Federación (DOF).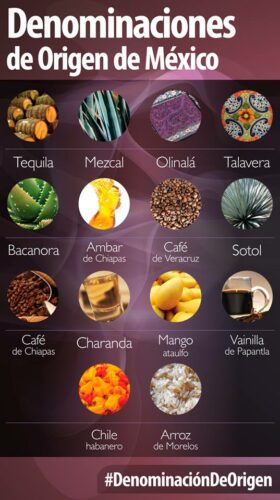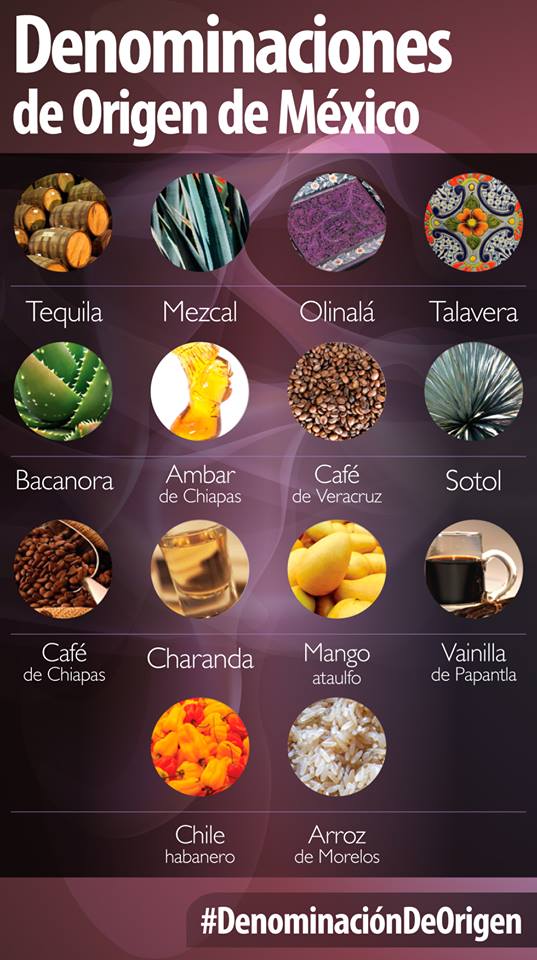 Three products are related to art and handicrafts:
Olinalá (laquer work from Olinalá in the state of Guerrero)
Talavera ceramics
Amber from Chiapas
Most, however, are related to food and drink:
Tequila (Jalisco, Nayarit, Tamaulipas, Michoacán and Guanajuato);
Mezcal (Guerrero, Oaxaca, Durango, Zacatecas and San Luis Potosí);
Bacanora (Sonora);
Coffee from Veracruz (Veracruz);
Sotol (Chihuahua, Coahuila y Durango);
Coffee from Chiapas (Chiapas)
Charanda (Michoacán);
Mango Ataulfo from the Soconusco region (Chiapas);
Vanilla from Papantla (Veracruz)
Chile habanero (Yucatán Peninsula)
Rice from Morelos
Perhaps, therefore, it is not surprising that Mexican cuisine has been acclaimed as one of the most varied in the world. In 2010, the traditional Mexican cuisine of Michoacán was added to the UNESCO List of the Intangible Cultural Heritage of Humanity.
Mexican cuisine was up for more international awards this week when 10 of the country's restaurants made the list of the top 50 in Latin America.
The World's 50 Best organization named eight restaurants in Mexico City and one each from Nuevo León and the State of México among the 50 best in Latin America. Three of them — Quintonil which placed sixth, Pujol ninth and Biko 10th —also made the list of the world's top 50 this year.
They were followed by the only restaurants outside the Federal District: Pangea in Monterrey, Nuevo León, which placed 13th, and Amaranta in Toluca which was 22nd.
The other winners were Sud 777 (27th), Máximo Bistrot (41), Rosetta (44), Nicos (47) and Dulce Patria (49).
Other aspects of Mexican life and culture on the UNESCO list include the Indigenous Festivity dedicated to the Dead (added in 2003); Places of memory and living traditions of the Otomí-Chichimecas people of Tolimán: the Peña de Bernal (2009); the Ritual ceremony of the Voladores in Veracruz (2009); Parachicos in the January fiesta in Chiapa de Corzo, Chiapas (2010); Pirekua, the traditional song of the Purépecha, Michoacán (2010); and mariachi music (2011).
Related posts: