Mexico's 32 states are divided into municipios (municipalities). There are 2456 municipalities which vary greatly in size and population. For example, the average population of Oaxaca's 570 municipalities is about 6000 while the average population of Baja California's five  municipalities is over 500,000. Each municipality elects a new president and local council every three years (except for Coahuila where four-year terms now apply).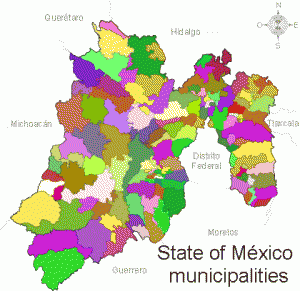 Municipal governments have taxing authority but rely very heavily on financial support from state and federal sources.
Municipalities are responsible for a variety of public services, including water and sewerage; street lighting and maintenance, trash collection and disposal, public safety and traffic, supervision of slaughterhouses, and maintenance of parks, gardens and cemeteries.
Municipalities are also free to assist state and federal governments in the provision of elementary education, emergency fire and medical services, environmental protection and the maintenance of historical landmarks.
Municipalities are therefore akin to  counties in the USA.
Here are a selection of other facts about Mexico's municipalities:
The state with the most municipalities is Oaxaca:  570; at the other extreme, the states of Baja California and Baja California Sur each have only 5 municipalities.
Excluding the equivalent territorial divisions of the Federal District (known as delegaciones), the largest municipalities in terms of population are Ecatepec de Morelos (in Mexico State) and Guadalajara (Jalisco). Each is home to about 1.7 million people.
The least populated municipality is Santa Magdalena Jicotlán (Oaxaca) which has just 102 inhabitants.
Only about 450 municipalities have fewer men than women. The most male-dominated municipality is Aquiles Serdán (Chihuahua) which has 1.6 men for every woman.
The most female-dominated municipality is San Miguel Tulancingo (Oaxaca) with 1.5 women for every man.
The municipality of Tulum (Quintana Roo) is one of the youngest in the country; its first council was elected in 2009.
The most crowded municipality in terms of people per dwelling is San Simón Zahuatlán (Oaxaca):  9.1 persons per household. The national average is 4.2. The least crowded municipality is  Santiago Nejapilla (Oaxaca) where the average occupancy is 2.7 per home.
The largest municipality in area is Ensenada (Baja California), 53,304 square kilometers; the smallest used to be San Lorenzo Axocomanitla (Tlaxcala), 4.34 square kilometers, but is now Santa Cruz Amilpas (Oaxaca) which is only 1 square kilometer in area.
The 2010 census, carried out in June, will necessitate revising some of these numbers when the results are released in due course.