A few days ago, Jimena Navarrete, a beautiful and well-spoken 22-year-old from Guadalajara, Jalisco, was crowned Miss Universe 2010. The event was held in Las Vegas. Navarette became the second Miss Universe to come from Mexico. Lupita Jones, twenty years ago, was the first.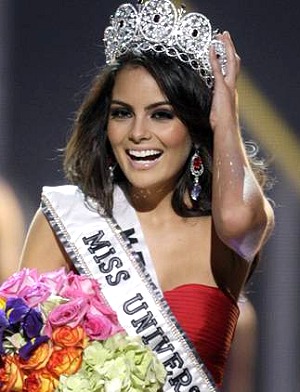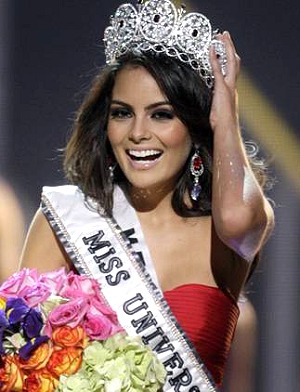 Mexican señoritas have long had the reputation of being among the most beautiful women on the planet, but it may come as a surprise to discover that the very first Miss Mexico was held as recently as 1952. By way of international comparison, Miss Australia was first chosen in 1908 and Miss France in 1920, while Miss Germany dates back to 1927, Miss England to 1928, Miss Spain to 1929 and Miss Italy to 1939. The globalization of beauty pageants (as they were originally known) dates back to the 1950s, when the USA and many other countries in the Americas first held their national competitions.
The first Señorita México (Miss Mexico) national beauty pageant in 1952 was won by Señorita Chihuahua. The contest was then held annually (with a couple of exceptions) until 1993. In 1994 it was replaced by Nuestra Belleza México (Our Mexico Beauty). The winner of Mexico's national beauty pageant represents Mexico in the Miss Universe competition and Nuestra Belleza México was founded by Lupita Jones (Miss Mexico 1990) who went on to become Mexico's first Miss Universe.
Prior to 1970, Miss Mexico was a relatively small event, less than truly national, and young ladies from Mexico D.F. won no fewer than 9 times in the first 14 occasions the competition was held. Despite the event's low-profile, some years were marred by controversy. For instance, accusations of favoritism were leveled at the organizers of the 1957 event since the winner apparently held Spanish citizenship. In these early years, no other state besides Mexico D.F. won more than once.
Since 1970, the results reveal a clear domination by señoritas from Mexico's northern states. Sinaloa has won no fewer than 7 times. The other winners (number of times in parentheses) have come from Nuevo León (4), Sonora, Chihuahua, Yucatan and Mexico D.F. (3 each), Baja California, Jalisco and Tamaulipas (2 each) with a single winner each from Coahuila, Durango, Nayarit, Guerrero, Veracruz, Tlaxcala, Hidalgo, the State of México and Campeche.
Chapter 13 of Geo-Mexico: the geography and dynamics of modern Mexico analyzes Mexico's cultural landscapes. Buy your copy today!