PEMEX awards first-ever contracts for the operation of oil fields.
In a move welcomed by international oil analysts, Pemex has awarded British company Petrofac Facilities Management Ltd. a contract to operate the Santuario oil fields in Tabasco. Prior to this contract, all oil field operations in Mexico since 1938 had been directly managed by Pemex.
Operations in two other areas – Magallanes and Carrizo – are also being contracted out. The areas cover 312 square kilometers between them, and have 3P (proven, probable, possible) reserves totaling 207 million barrels of crude oil equivalent. The contractual changes should attract considerable foreign investment in coming years, and are expected to play an important role in boosting national oil production from its current level of 2.5 million barrels a day.
Major natural gas discovery in the Gulf of Mexico
Pemex has announced that its Piklis 1 offshore well, located 150 km northwest of Coatzacoalcos in the Lakach field, has found a massive deposit of natural gas 5,431 meters below the water surface. The deposit holds more than 400 billion cubic feet of gas and, when production begins in 2014, it should yield 700-800 million cubic feet/day, reducing Mexico's natural gas imports by up to 80% over the next 15 years. Compared to 2009, Pemex's total revenues in 2010 rose 20.3% to 115 billion dollars, mainly due to high prices for petroleum and related products; export sales were 21.4% higher. Pemex is currently producing about 2.6 billion barrels of crude oil/day.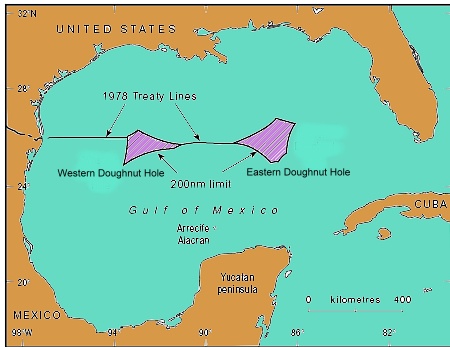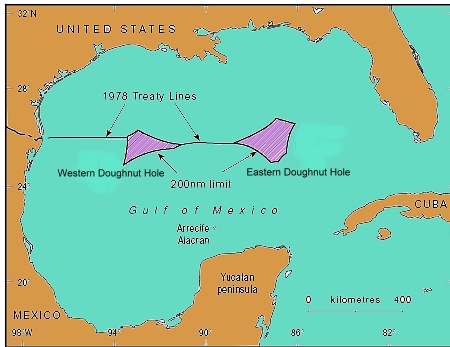 How much does it cost to produce a barrel of oil?
According to Mexico City daily La Jornada, Pemex has maintained its enviable low costs per barrel of oil obtained (all figures in dollars):
2006 $4.40
2007 $4.90
2008 $6.10
2009 $4.90
2010 $5.20
These costs per barrel are very competitive, and well below the costs recorded for other major firms as Total, BP, Exxon, Statoil, Chevron and Petrobras, who have production costs of between $6.10 and $10.00 a barrel.
Transborder oil fields
Several major oil and gas fields are known to straddle the international border in the Gulf of Mexico. Deepwater wells on the US side have already found massive deposits of oil, but, until recently, Pemex has not had the technology to drill in such deep waters. That is now changing. Pemex has begun drilling from the deepwater "Bicentenario" semi-submersible platform. The first well, Talipau-1, will descend 940 meters to the sea floor and then a further 5,000 meters into oil-bearing strata in the region known as the Cinturón Plegado de Perdido.
Pemex believes that deepwater wells in the Gulf of Mexico will eventually yield several billion barrels of oil.
The Bicentenario, built in South Korea, is capable of operating in water up to 3,000 meters deep; it is 100 meters in length, 78 meters wide and rises 138 meters above the surface, with a total weight of 58,000 metric tons. It will house up to 160 workers at a time.
In related news, bilateral talks were held in Washington DC at the end of August relating to offshore oil fields that straddle the Mexico-USA maritime boundary in the Gulf of Mexico. The talks will set the parameters for efficient and safe exploitation of these hydrocarbon reserves in the future. A formal agreement is expected to be completed before the end of this year.
Related posts: