Given its strength (almost the same as the 1985 Mexico City earthquake), this latest earthquake could have been so much worse… but it appears that central Mexico escaped with only relatively minor damage.
The earthquake happened 12:02 p.m. local time at a depth of about 10 km (6 miles), some 200 km (120 mi) east of the resort city and was felt as far away as Mexico City. The epicenter was close to the settlement of Ometepec, roughly midway between Acapulco and Oaxaca City.
The USGS originally recorded the earthquake as a 7.6, but has since downgraded the magnitude to 7.4.
Mexican sources say the earthquake lasted 2-3 minutes. Several significant aftershocks have been recorded since. The shaking was felt in Guerrero, Morelos, Puebla, Tlaxcala, Estado de Mexico, the Federal District and as far as Veracruz.
Main impacts reported so far:
No deaths have yet been reported, but 7 people were injured as a direct result of the earthquake. Perhaps the luckiest to survive was the driver whose vehicle was crushed by debris when part of a pedestrian overpass collapsed (see image):
800 houses, in several municipalities, are reported damaged. The major damage is in the Costa Chica region of Guerrero. The municipalities affected include Ometepec, Tlacoachistlahuaca, Xochistlahuaca, Cuajinicuilapa, Igualapa, Azoyú and San Luis Acatlán.
Personnel from Mexico's armed services have established temporary shelters to house those that lost homes or who are considered at risk from aftershocks. Many families have opted not to return to their homes to sleep, fearing further quakes.
2.5 million people, mainly in central Mexico, lost electricity, but most had their power restored within hours.
The earthquake triggered several small landslides on highways in Oaxaca. In addition, traffic flow was briefly interrupted on the Acapulco-Cuernavaca highway, at kilometer 251.
Telephone service (including cell phone service) was briefly interrupted in several areas, while technicians carried out safety checks. Ay one point, more than 40,000 technicians were on standby.
Water provision. The Chalco-Xochimilco aqueduct was damaged, affecting about 100,000 people who live in the Tláhuac district of Mexico City. Elsewhere, 200,000 residents of the Iztapalapa district had their water supply interrupted due to damage to the La Caldera aqueduct. In both cases, repairs are expected to be completed within 48 hours.
School classes were suspended for the afternoon session in several places, including Acapulco, Igualapa, Cuajinicuilapa, Xochistlahuaca, Azuoyú, San Luis Zacatlán andOmetepec, and in Oaxaca City.
In Mexico City, the seismic alarm system functioned and gave residents a few seconds warning before the quake struck. In the words of one Twitter user (@RodrigoEBR) "FOR THE RECORD: The Mexico City earthquake early warning system was activated just seconds before the 7.6 quake".
Shares in Cemex, Mexico's multinational cement manufacturer, rose almost 4% on the day in late trading, as speculators bet on increased demand for cement and construction materials in the wake of the earthquake.
The USGS collects first-hand reports to map intensity:
Acapulco earthquake intensity map [maps tab]
This is the the intensity map several hours after the event: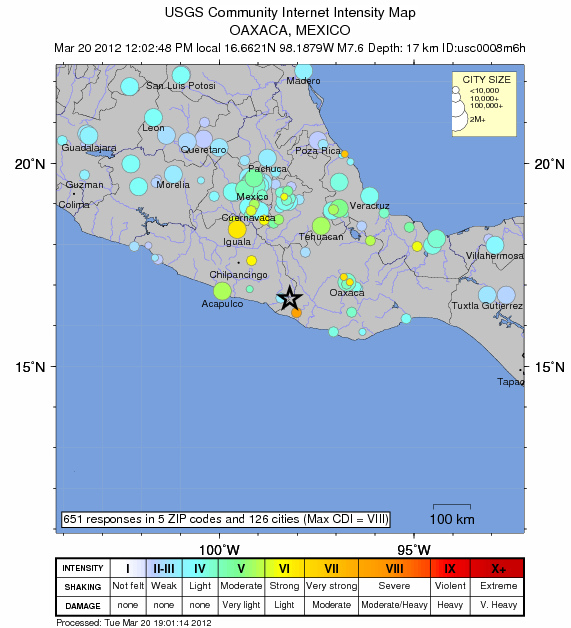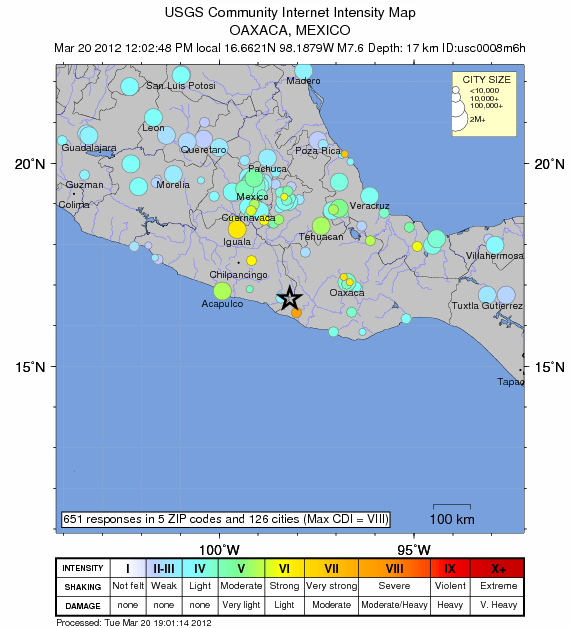 Earthquake update [28 March 2012]
According to the latest press reports, more than 32,000 homes and 1,057 schools in the states of Oaxaca and Guerrero sustained some damage as a result of the 20 March 2012 earthquake. This figure includes 30 schools in the Costa Chica region of Guerrero that will need to be completely demolished and rebuilt from scratch.
As of 26 March the area had experienced more than 200 aftershocks of Richter scale 3 or greater.
The insurance industry expects claims from the earthqauke to reach about 5.6 billion pesos [about US $ 440 million], with most claims expected from policy holders living in the Guerrero, Oaxaca, the Federal District, Puebla and Morelos.
Damage in Mexico City included a section of line A of the city's metro network (see image), where 100 meters of track between Santa Martha and Acatitla stations were buckled and have now been replaced.
Related posts: