The breathtaking scenery of the El Pinacate and Gran Desierto de Altar Biosphere Reserve in the northern state of Sonora affords visitors a dramatic combination of two very distinct landscape types: volcanic landscapes (El Pinacate) in the east, and sand dunes (Gran Desierto de Altar) towards the west and south.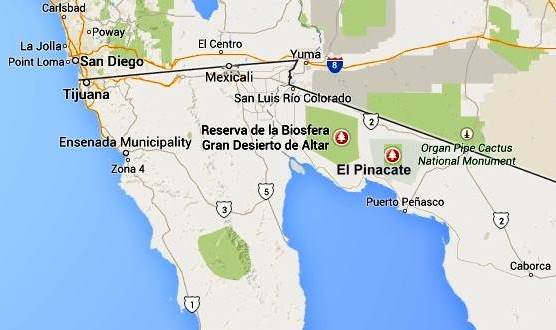 Volcanic scenery (El Pinacate)

The eastern section of the Biosphere Reserve, El Pinacate, is a dormant volcanic area of around 200,000 ha (2000 sq. km), centered on the El Pinacate Shield (or Sierra Pinacate) which has 3 main peaks: Pinacate, Carnegie and Medio. The El Pinacate Shield is a composite structure, comprised of extensive, successive black and red lava flows, some more than 20 km long, seperated by desert pavement. The El Pinacate Shield boasts a wide array of volcanic phenomena and geological formations. Most of the lava is basaltic (alkaline) in composition, making it relatively fluid when molten; it is mainly of the aa (blocky) type, though some pahoehoe (ropy) lava is also found. The total volume of lava is estimated at between 150 and 180 km3.
Besides the lave flows, the Pinacate area has more than 400 cinder cones (formed 1.2 million years ago) and several lava tubes. The lava flows and cinder cones are only a prelude to the most visually striking features in the reserve: 10 enormous, deep, and almost perfectly circular maars (steam explosion craters). Maars are believed to originate from a combination of explosion caused by groundwater coming into contact with hot lava or magma and subsequent collapse. The maars of El Pinacate are rivalled only by similar formations in Africa. The largest single maar is El Elegante, formed 32,000 years ago, which is 1,400 meters (4,600 feet) from rim to rim and 140 meters (460 feet) deep. It takes visitors a two to three-hour hike to reach its rim and be rewarded by a spectacular view.
The volcanic forms of El Pinacate are relatively recent in geological terms, most having been formed during the Quaternary Period, which began some 2.8 million years ago. The most recent volcanic activity in this area was only about 11,000 years ago. Some volcanologists believe that some of these craters could become active again in the future, with the potential to form volcanoes up to a few hundred meters in height.
Ron Mader, the founder of Planeta.com and a foremost authority on responsible tourism in Mexico, has marveled at the "bizarre and mind-boggling scenery" of El Pinacate., which so resemble the lunar landscape that between 1865 and 1970 it was used by NASA as a training ground for astronauts preparing for the moon landings. The lava field is so vast and sharply defined that it later turned out that the astronauts could easily recognize it from space!
Sand dunes (Gran Desierto de Altar)

The western and southern parts of the El Pinacate and Gran Desierto de Altar Biosphere Reserve have entirely different scenery. The Gran Desierto de Altar is North America's largest field of active sand dunes (erg). Several types of dunes are represented here, the tallest reaching 200 meters in height.
The sand needed to form and maintain these dunes comes from the fluvial and deltaic sediments of the Colorado River delta (to the west), the beaches of the Sea of Cortés/Gulf of California (to the south), the River Sonoyta (to the east) and the smaller river and stream fans formed in those parts of the reserve where there are volcanic and granitic mountains.
Prior to the opening of the Sea of Cortés (Gulf of California), vast amounts of sediment accumulated in this region brought by rivers of which little trace remains today. The creation of the Sea of Cortés, 5.3 million years ago, shortened the rivers and increased their average gradient (rejuvenation), causing them to cut into the pre-existing landscape leaving behind river terraces, remnants of the former higher level floodplains.
The fields of sand dunes of the Gran Desierto de Altar cover more than 550,000 hectares (5700 sq.km.) Several different kinds of sand dunes are found here–linear, crescent-shaped (barchans) and star-shaped–and they can be simple, compound or complex, depending on seasonal changes in the direction and strength of the wind.
Although linear dunes dominate (70%), crescent-shaped complex dunes and star-shaped dunes are of more interest because they exist in only a few locations in the world. Spectacular and very large star-shaped dunes, up to 200 meters high, occur both singly and in long ridges up to 48km in length. Star-shaped dunes possibly evolved from crescent dunes which changed their direction of movement becoming "reversing dunes". Side winds may account for the multiple arms of some star-shaped dunes.
Other features – Granite massifs
In addition, there are several granite massifs (inselbergs), such as the Sierra del Rosario, emerging like islands from the sandy desert flats and dunes. They range in elevation from 300 to 650 meters above sea level. They represent another remarkable landscape feature harboring distinct plant and wildlife communities.
Main source:
Related posts: