President Enrique Peña Nieto has officially opened the new Durango-Mazatlán highway which has taken more than a decade to complete. He inaugurated the new highway early today (17 October), Mexico's annual "Road Workers' Day" ("Día del Caminero").
The new 1.2-billion-dollar, partly 4-lane, 230-kilometer highway will slash the time taken to drive from the city of Durango to the Pacific coast resort of Mazatlán, from 5 hours to about 3 hours. It is by far the single most important and complex road project in Mexico in recent years.
The most spectacular part of the highway is the Baluarte Bridge (Puente Baluarte), the tallest cable-stayed bridge in the world, which straddles the border between the states of Sinaloa and Durango and circumvents the need to negotiate the twisting and dangerous route taken by the old highway through the Espinazo del Diablo (Devil's Spine). The Baluarte Bridge is a 1,124-meter-long bridge that rises almost 400 meters above the river below. The highway also includes 63 tunnels, the longest of which (El Sinaloense) is 2800 meters in length.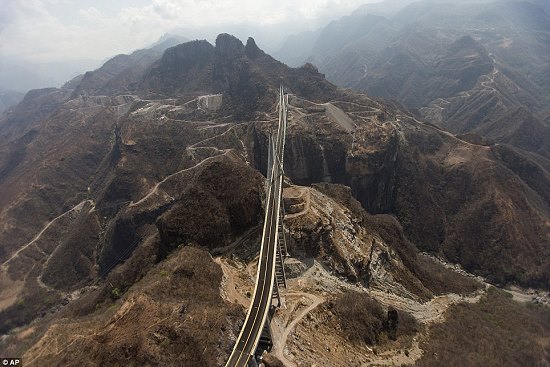 The firms involved in constructing the highway included Omega Corp, Tradeco Industrial, FCC Construcción, La Peninsular Compañía Constructora, Grupo Mexicano de Desarrollo and Grupo Hermes.
The highway has four toll booths; car drivers will pay about $500 pesos in total for a one-way trip along the entire length of the new highway. The highway is expected to carry 3,000 vehicles a day during its first year of operation, a figure expected to rise to 6,000 vehicles a day within the next six years.
Note: We are still waiting for a first-hand report from anyone who has driven the new highway. While the highway has been officially opened, at least one section of the highway is not yet open to regular traffic because of on-going repairs due to damage sustained during last month's storms.
More photos?
Related posts: