Mexico's latest UNESCO World Heritage Site is the El Pinacate and Gran Desierto de Altar Biosphere Reserve in Sonora, added to the UNESCO list in June 2013. Mexico now has 32 World Heritage Sites.
The El Pinacate and Gran Desierto de Altar Biosphere Reserve is part of the Sonoran desert, which extends from Sonora into the northern part of Baja California, and across the U.S. border into Arizona and California. The reserve covers 714,566 hectares with an additional 354,871 hectares of buffer zone. It is a relatively undisturbed portion of the Sonoran desert, and offers visitors a dramatic combination of two very distinct landscape types: volcanic landscapes (El Pinacate) and sand dunes (Gran Desierto de Altar).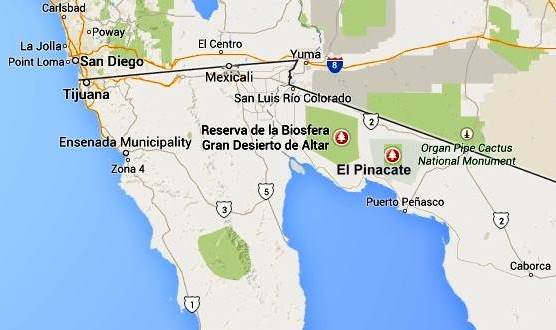 The biosphere reserve is immediately south of the U.S. border, west of the Lukeville (Arizona) – Sonoyta (Sonora) border crossing, and 50 km (30 miles) north of the fishing and tourist town of Puerto Peñasco. The San Luis Río Colorado–Sonoyta section of Mexican federal highway 2 (which runs from Mexicali to Caborca) skirts the northern section of the reserve. Puerto Peñasco is connected to Sonoyta by highway 8. There are entrances to the park from highway 2, 50 km west of Sonoyta, and from highway 8, mid-way between Sonoyta and Puerto Peñasco.
Despite being a desert area, most parts of the biosphere reserve do receive occasional rainfall, which gives this area more biodiversity than is true for most deserts.
Varied scenery
The eastern section of the biosphere reserve, El Pinacate, is a dormant volcanic area of around 200,000 ha (2000 sq. km), centered on the El Pinacate Shield (or Sierra Pinacate) which has lava flows, cinder cones, lava tubes and circular maars (steam explosion craters). Ron Mader, the founder of Planeta.com and a foremost authority on responsible tourism in Mexico, has marveled at the "bizarre and mind-boggling scenery" of El Pinacate. The geology and landforms of this area so resemble the lunar landscape that between 1865 and 1970 NASA used it as a training ground for astronauts preparing for the moon landings. The lava field is so vast and sharply defined that it later turned out that the astronauts could easily recognize it from space!
The western and southern parts of the El Pinacate and Gran Desierto de Altar Biosphere Reserve are entirely different. The Gran Desierto de Altar is North America's largest field of active sand dunes (erg), more than 550,000 hectares (5700 sq.km.) in area. Several types of dunes are represented here, the tallest reaching 200 meters in height, including linear, crescent-shaped (barchans) and star-shaped dunes.
Flora and Fauna
The highly diverse mosaic of habitats in the biosphere reserve is home to complex communities and a surprisingly high species diversity. More than 540 species of vascular plants, 44 mammals, more than 200 birds and over 40 reptiles inhabit this seemingly inhospitable desert. All feature sophisticated physiological and behavioural adaptations to the extreme environmental conditions. Insect diversity is high, though not fully documented. Several endemic species of plants and animals exist, including two freshwater fish species.
The flora in Sierra Pinacate includes the sculptural elephant tree (Bursera microphylla). The name "Pinacate" derives from pinacatl, the Nahuatl word for the endemic desert stink beetle. The biosphere reserve has large caves inhabited by the migratory lesser long-nosed bat (Leptonycteris curasoae yerbabuenae), which is an important pollinator and seed dispersal vector, and the endangered fish-eating bat (Myotis vivesi); both species are endemic.
Other noteworthy species in the reserve include the threatened Sonoran pronghorn (Antilocapra americana sonorensis), an endemic subspecies of restricted habitat and the fastest land mammal in North America; bighorn sheep (Ovis canadensis mexicana), the mule deer (Odocoileus hemionus) and gray fox (Urocyon cinereoargenteus), the Gila monster (Heloderma suspectum) and desert tortoise (Gopherus agassizii).
Human occupation and use
El Pinacate and Gran Desierto de Altar contains numerous archaeological remains, some dating back more than 20,000 years. It is an important cultural site for the indigenous Tohono O'odham people who consider El Pinacate peak, where they still perform sacred ceremonies, as the place where  creation occurred.
Management issues
The El Pinacate section of the biosphere reserve was first designated a "protected area" in 1979. In 1993, it was a declared a Biosphere Reserve, along with the Gran Desierto de Altar, by then president Carlos Salinas de Gortari. The biosphere reserve is managed by Mexico's National Commission of Natural Protected Areas (Conanp), in collaboration with the Sonora state government and the Tohono O'odham people.
The number of people visiting the reserve has risen rapidly from fewer than 6,000 in 2000 to more than 17,500 in 2010. The two major challenges that management needs to take into account are how to ensure that indigenous views about the reserve's use are respected, and how to limit negative impacts on the reserve from nearby tourism developments.
The potential negative impacts include:
increased vehicle traffic, resulting in ecological disturbance, littering and wildlife road kills.
pressure to extend the limited existing road infrastructure by adding new roads, though this might lead to more exotic (alien) invasive species.
increased habitat damage from the growing use of off-road vehicles
UNESCO considers that, "The most critical long term management issue is to address potential problems derived from tourism-related water consumption."
Given that this reserve is on the Mexico-U.S. border, transboundary cooperation is essential, and UNESCO actually recommends that the best way forward is to establish a Transboundary Protected Area, extending into Arizona.
The combination of a volcanic shield with spectacular craters and lava flows, almost entirely surrounded by an immense sea of dunes, makes this an area of great scientific interest, and an ideal laboratory for researchers interested in geology and geomorphology.
[Note: This post makes extensive use of UNESCO's description of the biosphere reserve, with additional information from a variety of other sources.]
Want to read more?
Related posts: