There are almost fifty places where people can legally cross the Mexico–United States border, but only one where the cities on either side of the border have the same name: Nogales.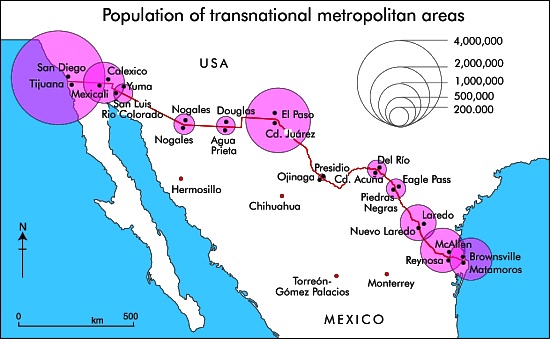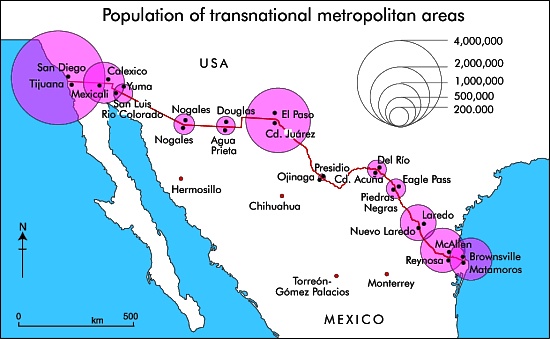 The fascinating history of the two Nogales (Ambos Nogales), twin cities on either side of the border, is related in this detailed 2010 blog post by Robert Lucas: Ambos Nogales Face Across the Border.
The geographic curiosities of the border between Nogales (Sonora) and Nogales (Arizona) included, historically, a street that ran east-west along the border, with one half of the street in Mexico and the other half in the USA:
This postcard from about one hundred years ago shows International Avenue, Nogales. The boundary line on the postcard was added by the publisher to indicate that the border ran down the middle of the street. Even in the absence of any boundary fence, residents were apparently still required to cross at one of two entry points: either the Morley Avenue crossing (shown in the postcard) or the Grand Avenue crossing further to the west.
Prior to the building of the International Avenue, which created a clear separation between Mexico and the USA, there had been some interesting consequences of having a bi-national city straddling the international border. For example, after Arizona introduced prohibition, outlawing the production and sale of alcohol in that state, some publicans took advantage of the unusual geography of Nogales to build saloons that straddled the border. Patrons tired of sipping their tea who wanted to enjoy duty-free mescal could simply move to the south end of the bar…
In 1897, the U.S. Congress ordered that a 60-foot strip along the border in downtown Nogales be cleared of all structures as a measure to suppress customs fraud. Mexico soon followed suit, creating the International Avenue. The International Avenue did not look like the view in the postcard for for very long. By 1916, a temporary fence had been erected down the middle.
Two years later, on 27 August 1918, this area was the scene of the Battle of Ambos Nogales (La batalla del 27 de agosto), which led to a permanent fence being built, forever separating Ambos Nogales into two distinct cities.
Related posts: