Bike riding is quite a common recreational activity in Mexico, as well as being many people's chosen means of transport to work.
In recent years, an increasing number of cities have started regular bike festivals or other events. The Festival de Bicicleta in Xalapa, the state capital of Vercaruz, is just one example.
Back in 1972, in Mexico City, famous Belgian cyclist Eddy Merckx, considered by many to be the greatest cyclist in the history of the sport, smashed the world one-hour distance record by pedaling 49.431 km (30.715 miles). He simultaneously established new 10 km (6.2 miles) and 20 km records by covering 10 km in 11 minutes 53.2 secs and 20 km in 24 minutes 6.8 secs. One curiosity of this achievement is that contemporary ads for Windsor bikes purport to claim that he was riding a Windsor bike when he smashed the record, whereas he was actually riding an Italian bike! Merckx's distance record stood for more than a decade before being broken, also in Mexico City, by Francesco Moser.
Mexico City is catching up with the craze for bike riding, too. It sees bikes as one way to reduce air pollution. About 30 km ( miles) of downtown streets, including the 8-lane Avenida Reforma, are closed to powered vehicles on Sunday mornings, to provide unhindered access for pedal bikes, walkers, and wheelchairs.
Earlier this year, the city began a bike rental system, Ecobici. More than 1,000 bikes were distributed between 85 specially-designed bike stations, spaced around the city center. Users purchase swipe cards which allow them to access a bike. After the trip, the bikes can be returned to any of the stations. City officials anticipate 24,000 riders using the system by the end of the year.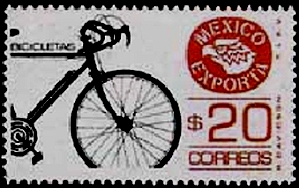 As the postage stamp suggests, Mexico exports bikes, mainly to the USA. The export market has declined, however, in the past decade as several manufacturers who used to assemble bikes in Mexico have moved their operations to China. Firms which have relocated their operations away from Mexico include Huffy (formerly in Nuevo Laredo), Windzy (Monterrey), Brunswick (Ojinaga) and SRAM.
The website of the National Association of Bicycle Manufacturers claims that its 14 member companies produce about 3 million bikes a year and employ, between them, 4,000 workers.
The 14 bike manufacturers listed are:
Bicicletas Cinelli – Santa Catarina, Nuevo León
Nahel – Durango, Durango
Goray – Torreón, Coahuila
Grupo Veloci – Zapopan, Jalisco
Rebimo de Guadalajara – Zapopan, Jalisco
Biciclo – San Luis Potosí
Bicicletas Mercurio, Mérida, Yucatá and San Luis Potosí (they acquired the famous Acer-Mex Windsor brand in 2001)
Bimex – Mexico City
BR – Mexico City
Magistroni – Mexico City
Benotto (primarily a distributor) – Mexico City
Grupo Oriental – Mexico City
Bicicletas Ozeki – Atizapan de Zaragoza, State of México
Bicileyca – Yauhquemehcan, Tlaxcala
Q. Is there any pattern to the distribution of bike manufacturers in Mexico? Try plotting the locations mentioned on a map of Mexico to see if any pattern emerges.
Q. What factors do you think bicycle manufacturers must take into account when deciding where to locate?
Mexico's manufacturing industry is discussed in chapter 16 of  Geo-Mexico: the geography and dynamics of modern Mexico. Mexico's transportation system is discussed in chapter 17, and its exports in chapter 20.
Ask your library to buy a copy of this handy reference guide to all aspects of Mexico's geography today! Better yet, order your own copy…