The Mexican Government recently released data on all the deaths in Mexico linked to drug wars for the period December 2006, when the drug wars started, through December 2010. The data include deaths of drug cartel members, law enforcement personnel, and innocent by-standers.  According to the data, 34,612 were killed in Mexico during this four year span, with 2010 being by far the most violent year with 15,273 deaths, 44% of the four year total. The 2010 total was 59% higher than 2009.
The graph below shows how rapidly the number of deaths resulting from the war on drugs has escalated. The crucial question now is, "Will drug war deaths continue to accelerate rapidly in 2011?"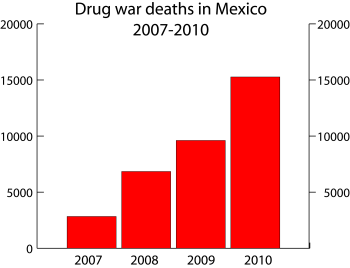 Not surprisingly, Chihuahua, led all other states with 10,135 deaths during the four year period, almost 30% of the total. In 2010 alone 4,427 were killed in Chihuahua, up 32% from 2009. This is a large one year acceleration in violence, but only about half the national increase of 59%. Most of the deaths in Chihuahua were in Ciudad Juarez, with 6,637, and Chihuahua City with 1,415. A later post in this mini-series will investigate drug war deaths in Mexico's major cities. The map below shows the total number of deaths state-by-state for the period December 2006-December 2010.
As can be seen from the map, other states with very large numbers of deaths were Sinaloa (4,387 deaths, up 71% in 2010), Guerrero (2,736, up 29%), and Baja California (2,019 – 1,667 in Tijuana). Next came Durango (1,892 deaths), Michoacán (1,751, down 12%), State of Mexico (1,538), Tamaulipas (1,475), and Sonora, (1,258).
Tamaulipas burst onto the drug war scene in 2010 with 1,209 deaths in 2010 compared to "only" 90 in 2009, an increase of 1243%. The state with the greatest increase was San Luis Potosí which went from 8 deaths in 2009 to 135 in 2010, an increase of 1588%. The figure for 2010 alone was 72% of the four year total. Other states experiencing extremely rapid increases were Nayarit (919%) and Baja California Sur (900%), and Nuevo León (454%).
States with over 1,000 drug war deaths are all located in northern or western Mexico except for the centrally located State of Mexico, and perhaps Guerrero which might be considered a southern state.
At the other end of the spectrum, the states recording the fewest deaths during the four year period were Tlaxcala (13 deaths), Baja California Sur (19), Yucatán (26), Campeche (31) and Querétaro (37). While these were the least affected by drug war violence, the number of deaths in these states was still significant. During 2009 and 2010, Yucatán had only three deaths while Tlaxcala had ten and Baja California Sur had 11.
Related posts about the geography of drug trafficking and drug cartels in Mexico:
Geo-Mexico: the geography and dynamics of modern Mexico discusses drug trafficking in several chapters.  A text box on page 148 looks at drug trafficking business and efforts to control it.  Buy your copy today to have a handy reference guide to all major aspects of Mexico's geography!