By way of contrast to the much-criticized, and now collapsed, Maya Biosana chocolate project, the Tikul Plantation, near Merida (Yucatán), is a well thought out cacao-growing project, with an educational component, being carried out by people who have decades of real experience with cacao. (Follow the link for a series of photos which gives a good idea of what is involved). Among the principles adapted by the Tikul project is biodynamic farming, which in this case means that "grafting is carried out when the moon is waxing and we harvest the pods when the moon is waning".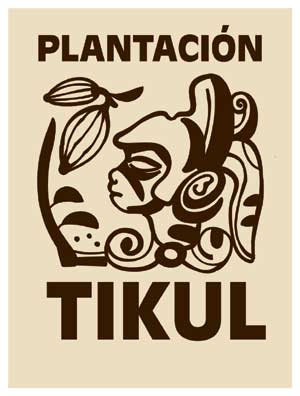 That cacao plantation, begun in 2008 by Belgian firm Belcolade, already has 10 hectares of land planted with 10,000 cacao trees (planting density of 1000 cacao trees/hectare). In addition, "20 more hectares have been cleared and cedar and mahogany trees, amongst others, have been planted". The developers of that project already have the 20,000 cacao trees to be grafted to complete the planting of this area. The shade plants that have been planted include 2000 yucca (cassava), 4000 banana plants,  10,000 cedar trees and 5000 mahogany trees. This means an average planting distance of "a cacao tree every 3 meters, a cedar tree every 6 meters and a mahogany tree every 12 meters".
Belcolade produces high quality Belgian chocolate for distribution to over 100 countries. "Belcolade, the Real Belgian Chocolate, is produced solely in Belgium following a long tradition of craftsmanship, quality and refinement. It is made from carefully selected cocoa beans using production processes that have been perfected over time, thus assuring that Belcolade's exquisite taste is in line with consumers' expectations."
Visitors to the Tikul Plantation are introduced to the importance of cacao to the Mayan culture in the "Cacao EcoMuseum" near the Plantation's entrance.
The Cacao Ecomuseum is not without its critics. According to an article in the Yucatán Times, Becolade never received the appropriate permits from the National Institute for Anthropology and History (INAH) to build a structure in a protected zone. The article alleges that construction was only possible because certain INAH officials acted corruptly.
Meanwhile another enterprise Choco-Story, with local partners, (and which has no connection to Belcolade as we incorrectly claimed in an earlier version of this post) has come under heavy fire in the press in recent months because it also started to build Chocolate Museums on the archaeological zones of Chichen Itza and Uxmal. Construction of both has now been halted, with INAH officials ordering that the partially-completed structures be demolished. The latest reports are that the conflict at Uxmal has been resolved and that the Choco-Story museum at that site will open sometime next year.
Related posts: