A surprising percentage of Mexico's land area is protected in one form or another. A very large number of sites of archaeological or historical importance are managed by the National Institute of Anthropology and History, more commonly known by its acronym INAH. In theory, all buildings more than 100 years old have some degree of protection (under INAH), but in practice this protection is often ignored by developers with other ideas.
Sites considered significant for their natural beauty are protected in a variety of ways, ranging from nature sanctuaries of local importance to protected areas, national parks and internationally recognized biosphere reserves. In total, more than 11.5% of Mexico's land area is now protected. This percentage has risen steadily for more than a century.
The designation of biosphere reserve can only be made by UNESCO (U.N. Educational, Scientific and Cultural Organization), in a manner somewhat similar to the designation that some major historical sites enjoy as World Heritage Sites. One of the benefits of attaining Biosphere Reserve status is that it allows access to more sources of funding for conservation programs.
Mexico currently has 40 biosphere reserves. Only the USA (48), the Russian Federation (41) and Spain (41) have more. Worldwide, there are now (July 2011) 580 biosphere reserves in 114 countries. The guiding principle of biosphere reserves is that the local populace is not displaced, but actively involved in all aspects of management, research and monitoring.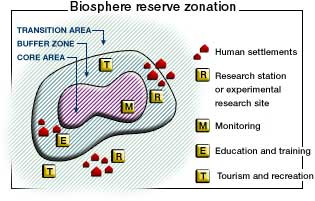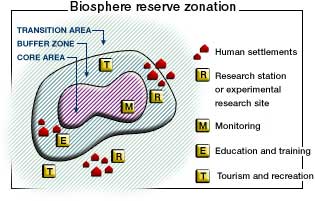 Biosphere reserves have a research-intensive core area or areas at their heart, surrounded by a buffer zone, where sustainable development is fostered, before gradually transitioning into the surrounding region. Many reserves have innovative systems of governance designed to ensure that the views of local people are fully respected. The idea of biosphere reserves was first proposed in 1968 at the UNESCO "Biosphere Conference", the first international attempt to reconcile the need for conservation with the use of natural resources for development.
No system is perfect. The challenges for biosphere reserves include strengthening the worldwide network by establishing new reserves in areas where few currently exist, as well as helping meet the on-going funding needs for all the reserves. One of the most significant future threats to biosphere reserves is likely to be the habitat changes wrought by global warming.
One of the more startling surprises in the existing network of reserves is the almost total lack of protection afforded to such an amazing part of Mexico as the Copper Canyon region, with its indigenous Tarahumara people and world-class scenery. But perhaps one day this region, too, will become part of Mexico's extensive system of protected areas.
Mexico's Biosphere Reserves, as of July 2011:
Baja California Peninsula:
El Vizcaíno (Baja California Sur): desert, mountain and coastal/marine ecosystems, petroglyphs, wall paintings, birds and Grey whales.
Sierra La Laguna (Baja California Sur): contrasting ecosystems, woodlands and scrub, with high degree of endemism.
Alto Golfo de California (Baja California and Sonora): extraordinary geological formations with volcanic craters, dunes, oasis and beaches, and a diversity of plant associations.
Islas del Golfo de California (Baja California Sur and Sonora): series of over 240 islands with high number of endemic species; ornithological paradise.
Northern Mexico:
Mapimí (Durango, Chihuahua and Coahuila): fragile warm desert and semi-desert ecosystems.
La Michilía (Durango): mountainous area of pine-oak forest; habitat for the now rare black bear (Ursus americanus) and wolf (Canis lupus).
El Cielo (Tamaulipas): one of the most ecologically rich and diverse parts of Mexico; numerous endangered animal species; ecotourism area.
Laguna Madre and Río Bravo Delta (Tamaulipas): a migratory bird haven on coastal wetlands.
Cumbres de Monterrey (Nuevo León): the landmark mountains that ensure the water supply for the state capital.
Maderas del Carmen (Coahuila): encompassing parts of the Chihuahuan Desert in Coahuila state adjacent to the U.S. biosphere reserve of Big Bend National Park.
Cuatrociénegas (Coahuila): an oasis with 500 pools that preserve species found only in the Coahuila state part of the Chihuahua desert.
Sierra de Alamos–Rio Cuchujaqui (Sonora): endangered tropical deciduous forest.
Central and Western Mexico:
Sierra de Manantlán (Jalisco and Colima): transition of the Nearctic and Neotropical biological realms; cloud forest and wild perennial corn (Zea diploperennis).
Chamela-Cuixmala (Jalisco): a Pacific Coast dry tropical forest harboring iguanas and crocodiles in lagoons and marshes.
Islas Marietas (Nayarit): a biodiverse archipelago of islands with a rich mix of marine species, corals and landforms.
La Primavera (Jalisco): pine and oak forest in a caldera close to Guadalajara, Mexico's second city.
Sierra Gorda (Querétaro): ecologically diverse area with 14 vegetation types, historic missions and Huastec Indians.
Monarch butterfly migration sites (Michoacán and State of México): unique annual migration links Mexico to Canada and the U.S.
Sierra de Huautla (Morelos): woods full of endemic species.
Barranca de Metztitlán (Hidalgo): home of Otomí Indians and large variety of wildlife.
Los Volcanes (State of México/Puebla) is the volcanic landscape of significant aesthetic and touristic value that surrounds the twin volcanoes of Popocatépetl and Ixtaccíhuatl.
Islas Marías (Nayarit), a group of four islands, perhaps best known for its federal penitentiary, with considerable diversity of ecosystems and many
endemic species.
Eastern Mexico:
Los Tuxtlas (Veracruz): a beautiful jungle-covered volcanic region, with vestiges of pre-Hispanic archeology.
Sistema Arrecifal Veracruzano (Veracruz): an archipelago off the Caribbean coast.
Pantanos de Centla (Tabasco): villages in coastal wetlands.
Southern Mexico:
Montes Azules (Chiapas): Lacandon tropical rainforest; 500 species of trees; several indigenous groups (including Tzeltal, Chol and Lacandon Maya).
Volcán Tacana (Chiapas): fragile ecosystems in Chiapas, adjacent to Guatamala.
El Triunfo (Chiapas): diverse evergreen cloud forest in rugged mountain terrain; a primary Pleistocene refuge for numerous endemic plants and animals; large mobile population.
La Encrucijada (Chiapas): shrimping lagoons on the Pacific Coast.
La Sepultura (Chiapas): ancestral lands of the Olmec and other pre-Hispanic cultures.
Selva El Ocote (Chiapas): rain forests, caves and reserves of underground water.
Huatulco (Oaxaca): coastal reserve protecting endangered sea turtles, dolphins and purple snails.
Lagunas de Montebello (Chiapas) series of beautiful lakes close to the border with Guatemala, set in upland, wooded terrain, with varied flora and fauna including orchids, butterflies, fish, reptiles, mammals and birds.
Naha-Metzabok (Chiapas) northern section of the Lacandon tropical forest, home to several members of the cat family and an important part of the Mayan forest biological corridor
Yucatán Peninsula
Ría Celestún (Yucatán and Campeche): coastal region including important wetlands and drowned river valley (ría) with diverse fauna and flora, including flamingos.
Región de Calakmul (Yucatán): diverse tropical rainforests; the largest forest reserve in Mexico, with important Maya sites; ecotourism project.
Ría Lagartos (Yucatán): coastal estuary with diverse birdlife including more than 18000 pink flamingos as well as some 30,000 migratory birds.
Arrecife Alacranes (Yucatán): the largest coral reef in the Gulf of Mexico, and the only one in Yucatán state.
Sian Ka'an (Quintana Roo): coastal limestone plain, and extensive barrier reef system on Caribbean coast, with numerous archaeological sites; more than 4,000 plant species.
Banco Chinchorro (Quintana Roo): mosaic of open water, sea grass beds, mangroves, sandy beaches and coral reefs; more than 95 species of coral.
Main source: UNESCO: Directory of the World Network of Biosphere Reserves
Related posts: