In a presentation entitled "Mexico's Outlook" in Ajijic, Jalisco, Mexico, on 20 March 2013, noted Mexican political economist Leo Zuckermann explained how many economists see Mexico as the "flavor of the month" among Latin American economies.  Brazil previously was the star of Latin America as evidenced by the 14-20 November 2009 cover of  The Economist. However, Brazil's performance slowed considerably in 2012; its GDP grew by only 1.0% and the dollar value of its stock market actually declined by 0.5% in 2012. (The Economist, 19 January 2013, p 93)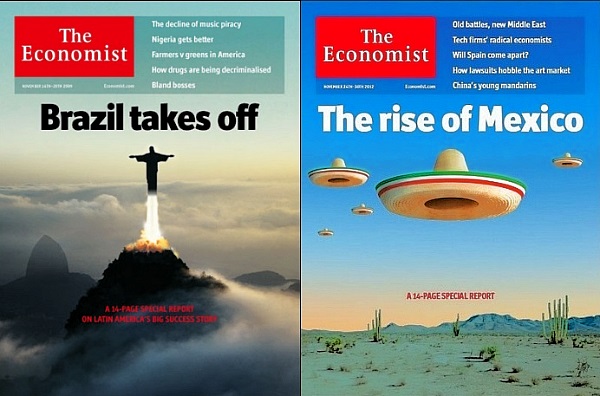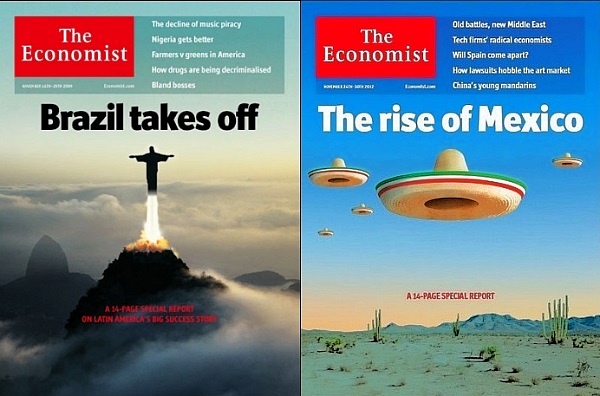 Mexico is the new star according to The Economist 14-page Special Report on Mexico in its 24-30 November 2012 edition. Mexico's GDP grew by 4.0% in 2012, faster than the US, Canada and all European economies, though it did trail China (7.7%), India (5.4%), Indonesia (6.3%) and Thailand (5.8%). In dollar terms its stock market shot up an impressive 33.6% in 2012, tied with Germany and faster than all other sizable countries, except Turkey (75.8%), Thailand (45.9%) and Egypt (43.9%). (The Economist, 19 January 2013, pp 92, 93).
Mexico is expected to grow by 3.5% in 2013. However, it should be noted that after appearing on The Economist cover in November 2009, Brazil's GDP declined steadily from over 8% to only 1%. We hope that Mexico can avoid this Economist cover jinx.
Mexico's recent growth and positive outlook is largely dependent on continued expansion of exports, particularly the sale of automobiles and electronics to the USA. In 2013, Mexico is expected to surpass Japan as the leading exporter of light vehicles into the USA.
Though Mexican industrial export numbers are impressive, many of the components of these exports are initially imported. For example, the foreign content of Mexico's electronic exports is 61%, compared to about 40% for China, 45% for Korea and only 11% for the USA.
Much of Mexico's export capacity results from foreign direct investment in Mexico. However, such investment declined from nearly $30 billion a year in 2007 and 2008 to only $12.7 billion in 2012 (The Economist, 19 January 2013, pp 92, 93). This could limit export growth in future years. Furthermore Mexican direct investment abroad in 2012 was $25.5 billion almost twice the amount foreigners invested in Mexico. Prior to 2012 foreigners invested far more in Mexico than vice versa. This trend suggests that many Mexican investors see better opportunities abroad than in Mexico. Such investments are one reason for the rapid foreign expansion of some major Mexican multinational corporations such as Cemex, América Móvil, FEMSA and Bimbo. Another factor suggested by these numbers is that both foreign and Mexican investors do not see many attractive opportunities for domestic industries selling to the Mexican market. If Mexico is indeed now the "flavor of the month," it remains to be seen if Mexico can retain its current popularity.
Related posts: