For the first time ever, five Mexican beaches have been awarded Blue Flag certification. The Blue Flag system is a voluntary, international eco-label program run by the non-government, non-profit organization the Foundation for Environmental Education that recognizes beaches where water quality is excellent, where information and environmental education is readily available, and which are well managed, with high standards of safety and services. The announcement was made in Copenhagen, Denmark, where Blue Flag certification was given to 3100 beaches and 625 marinas worldwide.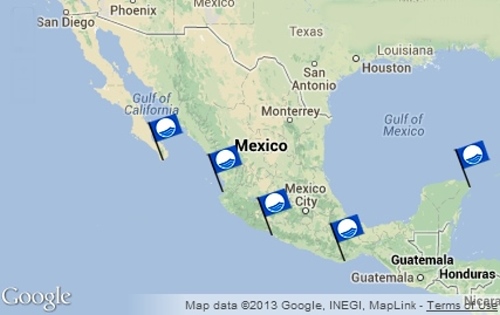 Mexico's five Blue Flag beaches (see map) are:
Chahué, Santa María de Huatulco, Oaxaca
Chileno, in Los Cabos, Baja California Sur
Delfines, in Cancún, Quintana Roo
El Palmar, in Zihuatanejo, Guerrero
Nuevo Vallarta Norte, on Banderas Bay in Nayarit
What does the Blue Flag system take into account?
The Blue Flag beach criteria are grouped into four main categories:
1. Environmental Education and Information
The beach must host at least 5 environmental education activities and display information about:
coastal zone ecosystems and natural, sensitive areas in the coastal zone
bathing water quality
the Blue Flag system
the code of conduct for the beach area
2. Water Quality
Water quality must be "excellent" in line with international standards
The beach must not receive any industrial or sewage-related discharges
Any nearby coral reefs must be monitored to ensure they remain healthy
Algae, seaweed, etc., should be left on the beach unless it adversely affects beach quality
3. Environmental Management
A beach management committee must conduct regular environmental audits
The beach must comply with coastal zone planning and environmental legislation
The beach must be clean, with sufficient waste disposal and recycling bins
There must be adequate and clean sanitary facilities
Regulations must prevent unauthorized camping, driving and dumping
Regulations concerning beach use by domestic animals must be enforced
Sustainable means of transportation must be promoted in the beach area
4. Safety and services
The beach must have:
first aid equipment and an adequate number of lifeguards and/or lifesaving equipment
a system to manage beach use and prevent conflicts and accidents
emergency plans to cover any unexpected pollution event
safe access to the beach and regular safety patrols
a supply of potable drinking water
access and toilets for persons with disabilities
a map showing the location of all facilities
Related posts: