Since we first reported on Bicycle manufacturing in Mexico in 2010, a number of things have changed.
At that time, the website of the National Association of Bicycle Manufacturers claimed that its 14 member companies produced about 3 million bikes a year and employed, between them, 4,000 workers. Today, the group has fewer members – 12 – who make "over 2 million" bikes a year and provide 3,000 jobs.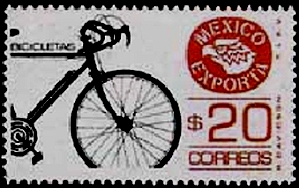 The Mexican bicycle manufacturing industry looks like it has to overcome a tough problem. Recent press reports suggest that the total number of bicycles produced nationally fell to around 1.8 million in 2014. Manufacturers are blaming the uncontrolled imports of less expensive bikes made in China. Gunter Maerker, a representative of the National Association of Bicycle Manufacturers, argues that manufacturers need greater protection from Chinese imports, which have an average cost of about 7 dollars a unit, compared to a unit cost of production that is closer to 20 dollars to make a bicycle in Mexico.
Domestic manufacturers sold 1.5 million bikes in the national market in 2014. Mexican manufacturers believe that sales of imported bikes equaled or exceeded that number. The fall in national bicycle manufacturing has already had impacts on suppliers of components since national bikes are made largely of domestically-manufactured parts (along with some items sourced in China or Taiwan).
Mexican bicycle manufacturers are also worried about the implementation of the Trans-Pacific Partnership (TPP), agreed in principle earlier this month, but still needing formal approval in all signatory countries. The 12 countries involved are Mexico, the U.S., Canada, Chile, Peru, Australia, Japan, Brunei, Malaysia, New Zealand, Singapore and Vietnam.
China has had no part in TPP discussions, but it is feared that Chinese manufacturers may triangulate their products into Mexico via signatory countries such as Malaysia or Vietnam.
In 2015, the National Association of Bicycle Manufacturers lists 12 bike manufacturers:
Bicicletas Cinelli – Santa Catarina, Nuevo León
Nahel – Durango, Durango
Goray – Torreón, Coahuila
Grupo Veloci – Zapopan, Jalisco
Rebimo de Guadalajara – Zapopan, Jalisco
Bicicletas Mercurio, Mérida and San Luis Potosí (they acquired the famous Acer-Mex Windsor brand in 2001)
Bimex – Mexico City
Magistroni – Mexico City
Benotto (primarily a distributor) – Mexico City
Grupo Oriental – Mexico City
Corporativo La Bici – Mexico City
Bicileyca – Yauhquemehcan, Tlaxcala
Related posts: