Follow-up, 28 October 2015: In the event, Hurricane Patricia did not cause anywhere near the catastrophic damage that it might have. This was partly because it was narrower than most hurricanes of its size and happened to continue on a path that missed the major resorts of Puerto Vallarta and Manzanillo, and partly because it then rapidly lost strength as it smashed into the Western Sierra Madre (Sierra Madre Occidental), though it did bring torrential rain to many areas. This post-hurricane report in the Mexico Daily News summarizes the impacts.
Post-hurricane photos and video:
Original post:
As of Friday morning (23 October), Hurricane Patricia is a Category 5 hurricane, the highest rating possible, and "now the strongest ever hurricane to hit the eastern north Pacific region", according to World Meteorological Organization spokeswoman Clare Nullis, citing an update from the US National Hurricane Center (NHC).
Hurricane Patricia's central pressure of 880mb is the lowest for any tropical cyclone globally for over 30 years.
The maximum sustained winds associated with Hurricane Patricia are up to 325 km/hr (200 mi/hr), "enough to get a plane in the air and keep it flying".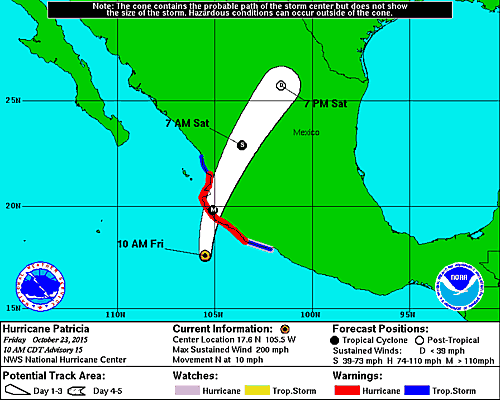 Hurricane Patricia is heading towards land at 16 km/hr (10 mi/hr), and is currently predicted to make landfall somewhere close to Manzanillo in the state of Colima, later today (Friday 23 October).
Hurricane warnings are in effect for several towns along the Pacific coast, including the major resort of Puerto Vallarta. Puerto Vallarta has established 18 shelter locations to house evacuees.
People living in the coastal areas of the states of Nayarit, Jalisco, Colima and Michoacán are all likely to experience severe impacts from this hurricane. The hurricane could cause a significant storm surge up to 2 meters high along much of the coast, and potentially up to 6 meters high in some bays such as Barra de Navidad-Melaque, and neighboring Cuestacomate.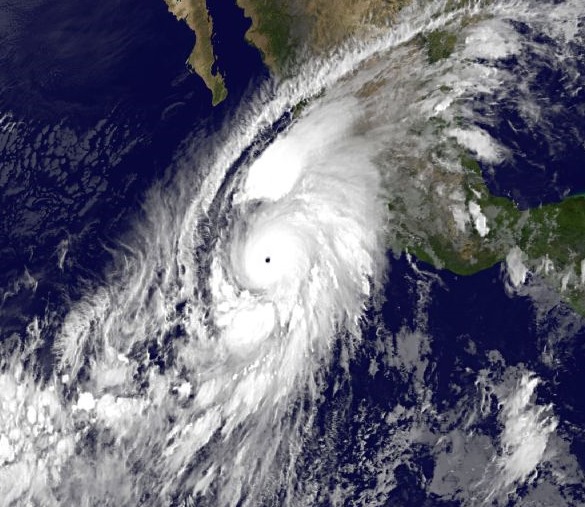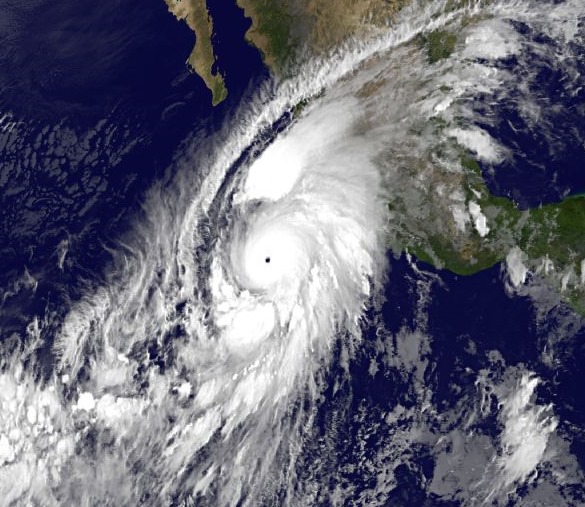 Officials are warning residents to prepare for torrential rain (in excess of 300 mm is expected in some areas), exceptionally-strong winds and power outages, and are readying emergency shelters. Air traffic is already being affected, with delays reported for various domestic flights.
Mexico's national water commission, CONAGUA, reports that the government has 1,782 temporary shelters available in the states of Michoacán, Colima, and Jalisco with a combined capacity of more than 258,000 people. Around 50,000 people should have been evacuated before the hurricane hits land, according to Mexican Civil Protection agencies.
Once it makes landfall, the hurricane is expected to weaken quickly, though inland areas, such as Guadalajara and the Lake Chapala area, will receive heavy rain.
Related posts: