What comes to mind when the word "Mexico" is mentioned?
For most people, it brings to mind a variety of colorful images, such as those below, usually based on television, magazines, travel brochures and personal travels in Mexico. "Mexico" also is associated with verbal or written words or phrases, such as:
Drug wars
Illegal immigrants
Tacos and tamales
Tequila / Good beer
Fabulous beach resorts
Bargain prices
Poverty
Friendly people
Carlos Slim (the World's richest man)
Deserts and cactus
Swine flu
Pre-Columbian ruins
Sombreros
Geo-Mexico (well maybe that last one is wishful thinking, but hopefully it will true someday)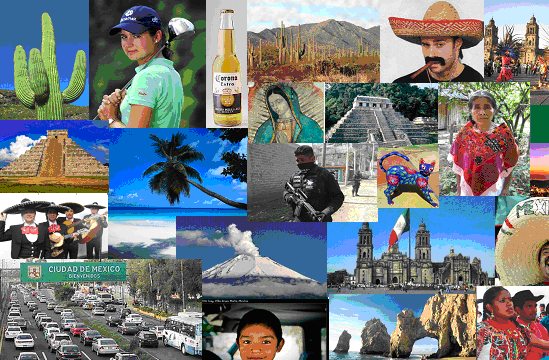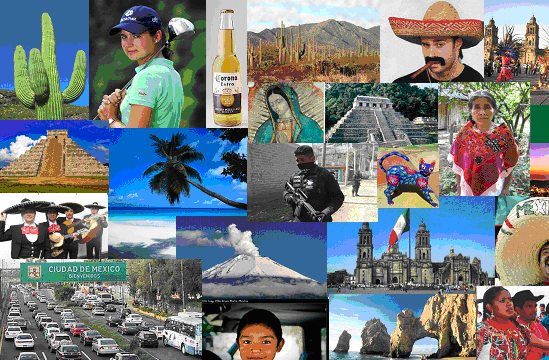 Q. How many of these images can you identify?
These images and word phrases hold some truth, but do not begin to capture the full importance and significance of Mexico, something we try to do more thoroughly in Geo-Mexico: the geography and dynamics of modern Mexico.
For example, did you know that Mexico is one of only six countries ranked in the top 15 in the world in geographic size, population, and economic production? Furthermore, Mexico is one of the earth's most biologically diverse countries. It ranks first in number of reptile, cactus and pine species; second in mammal species; and fourth in amphibian species.
There is lots more to Mexico than meets the eye in magazine and TV adverts – and that's why you should consider buying your own copy of Geo-Mexico: the geography and dynamics of modern Mexico, rather than relying on your local library or extracts posted on this blog!