Industrial exports from Mexico are growing rapidly and diversifying. Some of this growth is coming at the expense of China and other Asian countries. For example, as Adam Thompson reported in the Financial Times, Siemens of Germany recently moved its facilities for assembling high voltage electrical equipment for power substations from China and India to Querétero, Mexico. By next year, most of the 160 parts for this equipment will also be produced in Mexico. Siemens has eight other factories in Mexico and over 6,000 employees. As a result of investments like this, Mexico now exports more manufactured products than the rest of Latin America combined.
It is well known that the USA imports a great deal of manufactured goods from China including toys, electronics, clothing, shoes, etc. But China's market share of US imports has declined recently, from 29.3% in 2009 to 26.4% to day. On the other hand, Mexico's market share has increased from 11.0% in 2005 to 14.2%. According to The Economist, "HSBC reckons that by 2018 Mexico will overtake Canada and China to become America's main source of imports".
Mexico's location next to the giant US consumer market is a big factor (see "US firms are near-shoring jobs from China to Mexico".
It is much faster and cheaper to ship goods from Mexico to the USA rather than from Asia. For example, it usually takes two to seven days from Mexico versus 20 to 60 days from China. Mexico's locational advantage is particularly important for trendy time-sensitive goods and bulky items. For example, in 2009 Mexico became the world's leading exporter of flat-screen TVs, surpassing South Korea and China. Mexico is also the leading supplier of smartphones for the US market. Furthermore, as Itizar Gomez Jimenez reports in "Beyond the Refrigerator Door: Success of the Electric Home Appliance industry in Mexico", most of the large household appliances sold in the USA come from Mexico, including refrigerators, kitchen ranges, dishwashers, microwave ovens, washers and dryers.
Attractive wage rates in Mexico are also a consideration. A decade ago wages in Mexico were roughly four times those in China, but now they are only about 30% higher and the gap is closing (see, "Rising Chinese labor costs: good news for Mexico"). Less red tape under NAFTA also gives Mexico an advantage (see, "Can Mexico's industry compete with China?"). Mexico is fully committed to globalization. It has free trade agreements with 44 other countries, twice as many as China and four times as many as Brazil. To date, drug war violence has not been a serious constraint to Mexico's growing manufactured exports.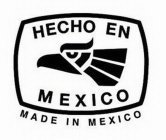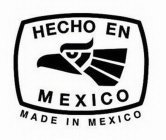 Mexico's maquiladora export industries used to assemble mostly imported parts into finished products for export to the USA. Now, most of the parts are manufactured in Mexico for such industries as electronics, automobiles, appliances and airplanes. (see: "Mexico's vibrant autoparts sector" and "The reasons why Mexico is fast becoming a key player in aerospace manufacturing). Mexico is also broadening its export market. In 2000, about 90% of Mexico's exports went to the USA, but now it is down to 80%. Mexico is even exporting manufactured items to China such as the new Chrysler Fiat-500 micro automobile.
While Mexico manufactures products under the names of many foreign brands, it also has its own brands and OEM (original equipment manufacturer) companies that design and build products that are incorporated into foreign branded products. For example, Mexico's Mabe designs and builds two-thirds of the gas ranges and refrigerators imported into the USA. Furthermore, most of the appliances sold under the General Electric brand in North and South America are manufactured by Mabe. LANIX, Mexico's largest domestic electronics company, makes desktops, laptops, netbooks, tablets, LCD and LED TV and monitors and smartphones for a range of brand names.
A careful look around a typical household in the USA would reveal that many, perhaps a majority, of the durable manufactured goods would carry a "Made in Mexico" label, including automobiles, flat panel TVs, smartphones, all types of appliances, garden and small power tools, etc. etc.
Sources:
Adam Thomson, "Mexico: China's unlikely challenger."

The Financial Times

, September 19, 2012 (registration required).
Itizar Gomez Jimenez, "Beyond the Refrigerator Door: Success of the Electric Home Appliance industry in Mexico" (pdf file). Cover Feature: Domestic Consume.
Related posts (specific industries):