How much geography can you learn from a novel? In some cases, plenty! Robert Richter's latest novel, Something for Nothing, is a case in point. Set in the swampy lowlands of coastal Nayarit, it is not only a fun read but provides armchair travelers with an easy introduction to the geography of western Mexico.
The book's author has known this area intimately for more than forty years and his extensive knowledge and deep appreciation for the varied landscapes of this region are evident throughout. The novel is the third in a series of mysteries starring a small-time hustler named Cotton Walters. This particular tale revolves around archaeologists, drug smugglers and a motley crew of colorful local characters.
The history in this novel is entirely believable, and the plot entertaining, but it is the descriptions of the area's geography that we focus on here.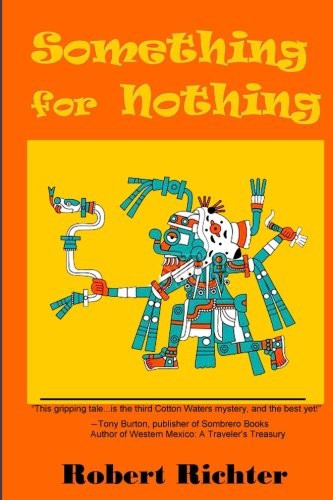 Early on, Richter offers an excellent overview of the landscapes in this region of Mexico:
"From the highway Mex-15 to the coast, between the San Blas turn on the south and the Tuxpan turn on the north, something was going on in that country of streams and gorges and farmers' fields. Mex-15 wound through breakneck sierra jungle country where a spur of the Sierra Madre Occidental plunges to the coastal lowlands of mangrove estuaries and shrimp-spawning lagoons, banana plantations and  fishermen's river-edge villages. Between Nayarit's two major rivers, Río San Pedro on the north, and Río Santiago on the south, this was rugged backcountry known only by the farmers and jungle scroungers who carved an agricultural living from the wilds. From sierra peak plots to fertile lowland fields, from scattered wild fruit groves hacked from the jungle to smooth, cultivated fields and orchards, from blacktop roads to machete-hacked trails, it's a country of explosive green growth and extreme geography, a native ground of small towns caught in colonial time warp and hidden bayou settlements as primitive as mythic Aztlan." (Something for Nothing, 9)
The following paragraph provides the likely human and economic geography background to the "something was going on" phrase used earlier, neatly combining comments about accessibility (or lack thereof), drug smuggling routes, the economic importance of marijuana-growing and questions the possible links between the military and the drugs business:
This was October, end of the rain and hurricane season, and the engorged rivers were running full, impassable except at the few major bridges. The army was stationed at each traffic artery coming out of that country to the main highway. Area contained. It had to be a sweep for marijuana growers or a hunt for major harvest warehouses. Sinaloa to the north was known for its poppy fields and cartel trafficking, Michoacán and Guerrero farther south for Sinsemilla and Acapulco Gold. But the barrancas and jungle milpas of Nayarit were starting to contribute their share of quality pot to the Gross National Product and to the local economies. This year's harvest had been coming in for some time, and this military presence all along the highway had the feel of maneuvers to eradicate or to confiscate. On the other hand, it could be to expedite the flow of product, too. Quién sabe? [Something for Nothing, 10]
Similarly, this extract from a later chapter links tourism to the volcanic landscapes and appraently laments the loss of wilderness that has accompanied tourism growth, before offering an evocative description of the lowland jungle:
We took an oyster shell road out a back street of Sayulita, not headed out toward the highway, but around a jungle-covered lava spill south into the bosque toward Punta Mita and the northern point of Banderas Bay. Today, that road is driven by Vallarta tourist families in rented Chevy Blazers to luxury hotels. In the winter of '72, it was a deer trail that died in an arroyo somewhere in the heart of darkness. Under old growth rain forest canopy we pried boulders out of the way, chopped through windfall palm trunks, and pushed on into an ever-closing tropical wilderness.

… Then suddenly, we entered a clearing under giant iguerra blanca trees and towering palms, draped with vines like decoration and full of grackle cries and parrot song, warblers answering and magpies chattering. Beneath the cathedral-like canopy, a village of stick and thatch huts appeared in the mist and smoke of kitchen fires. Dogs and naked children paused in mid-play to stare at the strange metal monster wheeling in from the twentieth century.

Our modern intrusion rent a momentary silence in the tapestry of village routine. Sunlight pierced the jungle crown with spears of silver light. A prehistoric dust hovered in the air. A rooster crowed. A jay answered. Time warped. As we opened our pickup doors kids scurried or stumbled forward, captured by a spell of awe. My own senses reeled under overload reception. I couldn't tell the century or the hour of the day in the perpetual jungle shade. I simply absorbed the surroundings, only vaguely conscious and aware. (Something for Nothing, 25-26)
The swamps of lowland, coastal Nayarit comprise a region known in Spanish as the Marismas Nacionales. The area is one of the most distinctive of Mexico's many extraordinary ecosystems, difficult to explore, teeming with insects, birds and aquatic life, and so far relatively untouched by tourism. Cotton Walters, the book's main character, and his friend Miguel are navigating their way through the swamps when they are spotted by the Mexican Navy:
I crawled back to Miguel in the stern, pointing and screaming, "Navy! Navy! Ándale! We have to reach the first islands!" Miguel opened it up and cut sharply for shore and the first open passage of river between delta sand spits and jungle-covered islands.

The mouth of the Río San Pedro is more a maze of passages through lowland marshes than a distinctive channel of fast flowing current–except now at the height of the rainy season. The San Pedro oozes into the Pacific rather than runs, and the coast from there north to Mazatlan is an ever changing labyrinth of lagoons and meandering rivulets choked with water lilies and low islands thick with marsh grasses and crawling vines. The lowland character changes with the seasons of dryness and deluge, a seething cauldron of crustacean larvae, breeding shrimp, prawn, oyster, and fish during the rainy season, and arid scrub brush pasture for roaming herds of Cebu cattle and their retinue of herons in the dry months. (Something for Nothing, 31)
Richter's less-than-flattering description of the town of San Blas nevertheless offers an astute summary of its historical significance:
Yeah, San Blas. The seediest backwater port town on Mexico's west coast. A town as old as the first buccaneers and as ravaged by time as an old hag. An outpost town on the fringe of four or five different cultures, a smugglers' town since the first Spanish customs house ran up a flag and started squeezing the citizens for coin of the realm. A place where four centuries of highwaymen have bought and sold their stock in trade, their particular treasure or scheme. (Something for Nothing, 53)
Much later in the novel, Cotton Walters breakfasts at McDonald's restaurant in San Blas. But this particular McDonald's has nothing to do with golden arches or globalization:
Breakfast at McDonald's isn't what you think if it's in San Blas. No golden arches. No Happy Meal with a movie toy inside. Just a standard Mexican tile-floor, stucco-wall, wooden-tabled restaurant with the ceiling fan trying to cut its way through the thick October air; the waiter Jorge as grim-faced and slow-paced as ever; and Señora Tinzón de McDonald, long-time widow of some American-Scot refugee of the fifties, waiting to make huevos al gusto or hotcakes. The only restaurant near the plaza that served an early breakfast, by 8 a.m. most of McDonald's tables were full when I arrived. A couple of expats tried to steady their morning shakes with that first cup of coffee, a few of the soccer-fan tourists in shorts and necklaces of long-nosed cameras were chowing down before a jungle trek chasing bright-colored birds, and a few local shop owners and municipal bureaucrats were hanging out over morning cups of caffeine conversation. An empty small table leaned against the far left wall, (Something for Nothing, 92)
I've had the pleasure of eating in the Restaurante McDonad's of San Blas on several occasions, and, as always, Richter's powers of observation and description are spot-on.
How much geography can you learn from a novel? Plenty, especially if it written by an observer such as Robert Richter who has such an obvious love for, and deep knowledge of, the locales described.
Related posts: