Both the name and the coat-of-arms of the state of San Luis Potosi recall the tremendous importance of mining to Mexico's economy.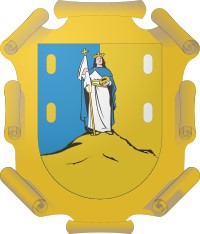 Called Potosí in emulation of the mines of that name high in the Bolivian Andes, the city's coat-of-arms, awarded in 1656, has its patron saint standing atop a hill in which are three mine shafts. Left of the hill are two gold ingots, and right of it, two silver ones.
Some of the early mining towns in San Luis Potosí faded into obscurity, others became centers for ranching and commerce. The best known former mining town, Real de Catorce, for long considered a ghost town, has been resuscitated by tourism.
For visitors planning to see Real de Catorce, the best place to stay the night before is Matehuala, on highway 57, which has a full range of tourist services. From Matehuala, it is short distance west to Cedral. Shortly after Cedral a 24-kilometer-long cobblestone road climbs up the mountain to Real de Catorce, which sits at an elevation of  2,743 meters (9,000 ft) in the Sierra de Catorce range.
Real de Catorce
The first surprise for visitors is the single file 2,300 meter long Ogarrio tunnel – the only entrance to the town from the north – a unique introduction to the many strange things awaiting you on the other side. The second surprise  is how such a large place, which produced more than 3 million dollars worth of silver each year, could ever have become a ghost town. Between 1788 and 1806, the La Purisima mine alone yielded annually more than $200,000 pesos of silver– and that was when a peso of silver was equivalent to a dollar.
The large, stone houses, often of several stories, with tiled roofs, wooden window frames and wrought-iron work, were so well built that they have survived to tell you their tales as you wander through the steep streets, soaking up the atmosphere of one of Mexico's most curious places.
You need time to really appreciate the former grandeur of Real de Catorce. Fortunately, there are several simple hotels and restaurants. It is well worth hiring a local guide.  An enthusiastic guide will wear your feet out long before you tire of their informative commentaries.
Seek out the beautifully restored palenque (cock-fighting pit). Pause in the church to examine the mesquite floor, imaginatively described in some guidebooks as comprised of a mosaic of coffin lids. The church is dedicated to Saint Francis of Assisi. The two week long fiesta in his honor, centered on October 4th, is a huge affair, attended by hundreds of returning Real de Catorce families.
In front of the church, across the small plaza of Carbón, is the former mint. This gorgeous building is well worth visiting and now used for cultural events such as photographic exhibitions. Look in the gallery and perhaps you'll find an irresistible, original, handcrafted item made of locally mined silver.
The town of Real de Catorce and its surroundings are sufficiently photogenic that several movies have been filmed here, including Bandidas (featuring Salma Hayek and Penélope Cruz) and The Mexican (featuring Brad Pitt and Julia Roberts).
The town, designated a Magic Town in 2001, has several small hotels and restaurants for those wanting to spend more time here.
This area has close associations with the indigenous Huichol (Wixarika) Indians who call this area Wirikuta. Each spring, they visit Cerro del Quemado, a hill within easy hiking distance of Real de Catorce, to leave religious offerings. The Huichol collect the hallucinogenic cactus peyote, used in some of their ceremonies, from the surrounding desert during an annual spiritual pilgrimage to Wirikuta from their heartland in northern Jalisco, 400 km (250) miles away. Cerro del Quemado was declared a National Sacred Site in 2011. An upcoming full length documentary about the Huichol Indians, the "Huicholes: The Last Peyote Guardians", includes shots of the pilgrimage, while looking at how the continuation of the pilgrimages could be threatened by proposed mining projects.
Related posts: