A BBVA-Bancomer report, based on Mexico's 2010 census data includes an interesting graph showing where "Americans older than 50" live in Mexico. The data is based on place of birth, so some of the "Americans" in the data are of Mexican heritage – they were born in the USA, to parents who were born in Mexico, and have since relocated to Mexico.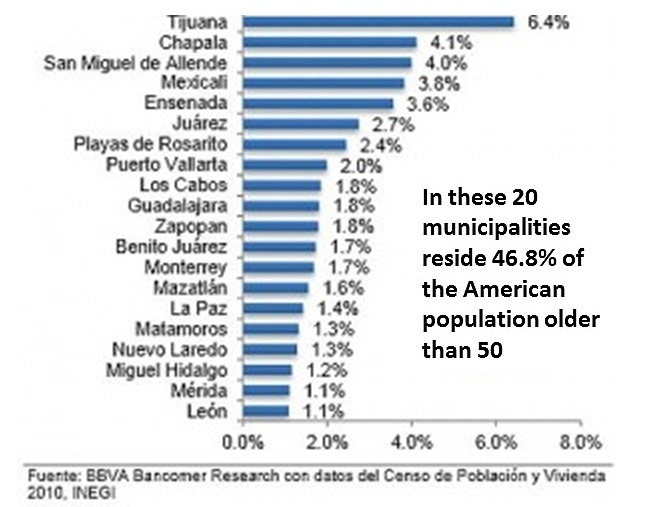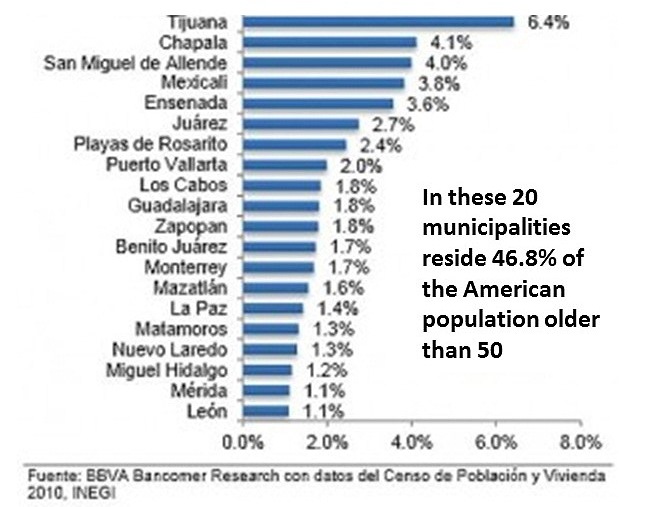 As the graph highlights, almost half of all Americans living in Mexico live in one of just 20 municipalities. Tijuana, just across the border from San Diego, leads the way, with 6.4% of all the Americans over age 50 living in Mexico, followed by Chapala and San Miguel de Allende, the only two non-border municipalities in the top seven locations for older Americans.
Perhaps no surprise, then, that both these areas have weekly English-language newspapers. The Chapala area is served by The Guadalajara Reporter which covers Guadalajara, Zapopan, Chapala and (to a lesser extent) Puerto Vallarta, potentially reaching 9.7% of all Americans over the age of 50 in Mexico. For its part, San Miguel de Allende has Atención San Miguel. Both locations are popular choices for retirement.
Kudos to "Madeline", who points out in a comment (below), that there are several other English-language papers in Mexico. They include two in Puerto Vallarta: PV Mirror and the Vallarta Tribune. In Quintana Roo, Playa del Carmen has the Playa Times. In Baja California, there is the biweekly Baja Times and no doubt there are a few others, which we will add in due course! [Based in Mexico City, The News – thenews.mx – was the closest thing to a national daily in English, with distribution points in many parts of the country, but ceased publication in early 2016.]
Related posts: